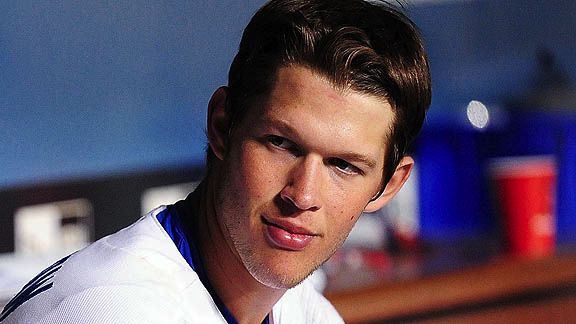 Gary A. Vasquez/US PresswireClayton Kershaw leads the National League in strikeouts per nine innings. His 2.96 ERA is ninth in the NL.
He didn't make the National League All-Star team, but Clayton Kershaw is the Dodger Thoughts top cog for the first half of the 2010 season.
Andre Ethier, Rafael Furcal and Hiroki Kuroda each had hot streaks, but Kershaw was consistently strong for almost the entire season to date. In 2010, he has thrown 12 quality starts in 18 tries (most of those better than the six-inning, three-run variety) and allowed a maximum of two runs over at least five innings in three others. In only two starts this season has he failed to keep the Dodgers in the game.
After walking 24 batters in his first 30 2/3 innings, Kershaw has even gone a long way toward solving his biggest weakness, walking 26 in his last 81 1/3 innings. It has just been a very impressive first half, and the Dodgers are lucky to have him.
| | | | | | | | | | | |
| --- | --- | --- | --- | --- | --- | --- | --- | --- | --- | --- |
| 7/12 | 7/1 | 6/21 | 6/10 | 5/24 | 5/13 | 5/3 | 4/19 | 4/12 | Player | Comment |
| 1 | 1 | 1 | 2 | 3 | 5 | 6 | 10 | 20 | Clayton Kershaw | In 18 starts this year, allowed more than three earned runs only twice. |
| 2 | 3 | 4 | 10 | 14 | 9 | 7 | 8 | 4 | Rafael Furcal | Reminding me of Magic Johnson lately. He's the playmaker. |
| 3 | 4 | 3 | 1 | 1 | 1 | 1 | 2 | 11 | Andre Ethier | Back in the swing of it with OPS over 1.000 in July. |
| 4 | 5 | 5 | 12 | 5 | 3 | 4 | 4 | 9 | Manny Ramirez | Team-high 155 adjusted OPS (.937 OPS). |
| 5 | 2 | 2 | 3 | 2 | 2 | 2 | 3 | 1 | Hiroki Kuroda | Disappointing to see him struggle after such a strong first three months. |
| 6 | 8 | 8 | 13 | 10 | 6 | 8 | 9 | 24 | James Loney | He can bring home the bacon, fry it up in a pan. |
| 7 | 6 | 6 | 4 | 11 | 10 | 5 | 6 | 13 | Jonathan Broxton | Broxton in the St. Louis heat next weekend: Bring some towels. |
| 8 | 7 | 7 | 8 | 16 | 18 | NR | NR | NR | Hong-Chih Kuo | The All-Star stranded two runners Sunday to lower ERA to 0.99. |
| 9 | 11 | 9 | 9 | 4 | 4 | 3 | 1 | 5 | Matt Kemp | Frequent newsmaker leads team in HR, R, SB, CS, SO. |
| 10 | 10 | 10 | 6 | 8 | 11 | 12 | 12 | 10 | Chad Billingsley | Allowed three HR to first eight batters May 31, none in 37 1/3 IP since. |
| 11 | 12 | 12 | 11 | 9 | 16 | 11 | 7 | 6 | Casey Blake | Keep wanting to drop him because he's really not hitting, but this is where he goes. |
| 12 | 9 | 11 | 5 | 7 | 8 | 26 | NR | NR | John Ely | No one has forgotten what he meant to this team when the chips were down. |
| 13 | 14 | 13 | 14 | 12 | 12 | 15 | 14 | 14 | Blake DeWitt | So far, OPS has improved for four consecutive months: .856 in July. |
| 14 | 13 | 15 | 16 | 13 | 17 | 18 | 21 | 18 | Jamey Carroll | Pitching is hard: Carroll has seven extra-base hits, 31 walks. |
| 15 | 15 | 14 | 15 | 6 | 7 | 10 | 5 | 2 | Russell Martin | Offense is hard to watch, but seems like he's throwing his best in a few years. |
| 16 | 16 | 16 | 18 | 21 | 22 | 21 | 17 | 15 | Jeff Weaver | Fourth on the team in wins. |
| 17 | 22 | 25 | 25 | 22 | 23 | 20 | 15 | 25 | Vicente Padilla | Well, isn't this a pleasant development: 10 walks, 54 strikeouts in 2010. |
| 18 | 17 | 17 | 17 | 25 | 24 | NR | NR | NR | Ronald Belisario | Really seemed like he had been finding a groove. |
| 19 | 19 | 20 | 20 | 20 | 20 | 17 | 20 | 8 | Reed Johnson | You're no Jamey Carroll, Reed – it's okay if you hit a homer this year. |
| 20 | 18 | 19 | 21 | 19 | 13 | 14 | 13 | 7 | Ronnie Belliard | Since June 28, 0 for 17 with four walks. |
| 21 | 20 | 18 | 7 | 18 | 14 | 16 | 18 | 21 | Carlos Monasterios | 45 more games to September 1, and he's a Dodger for keeps. |
| 22 | 24 | 23 | 24 | NR | NR | NR | NR | NR | Travis Schlichting | Hershiser's record safe for now. |
| 23 | 21 | 21 | 22 | 15 | 19 | 19 | NR | NR | Xavier Paul | 57 plate appearances since his last extra-base hit |
| 24 | 23 | 22 | 19 | 17 | 15 | 9 | 11 | 12 | Ramon Troncoso | Not expecting his demotion to last long. |
| 25 | 25 | 24 | 23 | NR | NR | NR | NR | NR | Justin Miller | Pitching with a lead: opponents 10 for 24. Otherwise, opponents 11 for 63. |
| 26 | 26 | 26 | 26 | 23 | 25 | 22 | 19 | 19 | A.J. Ellis | So little power, so little time. |
| 27 | 27 | 27 | 27 | 29 | 29 | 28 | 25 | NR | Jon Link | Unscored upon in past 10 1/3 innings with Isotopes. |
| 28 | 28 | 28 | 28 | 24 | 26 | 24 | 23 | 23 | Brad Ausmus | Has as many doubles as Ellis this year. |
| 29 | 29 | 29 | NR | NR | NR | NR | NR | NR | Chin-Lung Hu | He will not be Taiwan's first to play in MLB All-Star Game. |
| 30 | 30 | 31 | 29 | 26 | 21 | 23 | 24 | 17 | Ramon Ortiz | Continues to struggle in Buffalo worse than he had been with Dodgers. |
| 31 | 31 | 32 | 30 | 27 | 27 | NR | NR | NR | Nick Green | Eighteen doubles last year, none this year. |
| 32 | 32 | 33 | 35 | NR | NR | NR | NR | NR | Scott Elbert | For arguably the team's No. 1 pitching prospect to have this kind of year is something else. |
| 33 | 34 | 36 | 34 | 31 | 31 | 25 | 16 | 3 | Charlie Haeger | Don't think we'll see him back this season. |
| 34 | 33 | 30 | 33 | 32 | 32 | 30 | 22 | 16 | Garret Anderson | Jay Gibbons OPSed .621 in last major-league season three years ago. |
| 35 | 36 | 35 | 32 | 30 | 30 | 29 | 27 | 22 | Russ Ortiz | Gave up one double and no homers this year. |
| 36 | 35 | 34 | 31 | 28 | 28 | 27 | 26 | 26 | George Sherrill | Has recorded one out this month. |