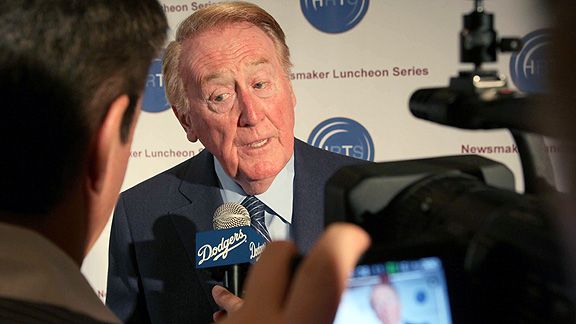 US PresswireVin Scully, during last year's offseason.
I have no insight into whether Vin Scully will retire after this season. My hunch is that he won't walk away easily. He still sounds filled with so much spirit – more than any of us have, I'm guessing – that I think with whatever schedule adjustments continue to be necessary, he will press on.
But there is always the possibility that these are the final two months of our time with him on the air. And however the Dodgers are playing, I have to find a way to appreciate that time. Even if they are not his final two months, I so want to savor them.
Thirty-six regular-season games remain at home and on the road against National League West opponents.
* * *
"Leave it to the Dodgers, going back all the way to the borough of Brooklyn, to get three hits in the inning and not score a run," Scully said at the end of the first inning tonight.
Scully doesn't get upset when the Dodgers play badly, and fans don't mind. In fact, they appreciate it.
There are things that bother Scully – from people who fail to acknowledge the heroes of D-Day, to the way the post-O'Malley organization discarded Mike Scioscia – but even then, he measures his words carefully and civilly.
The result on the field never bothers him. And fans don't mind.
I do get upset when the Dodgers play badly, but sometimes I'm told I'm not upset enough, not angry enough. I've certainly been told that I'm not angry enough about the ownership situation, even though I've expressed my displeasure with it more often than I can count.
No one ever complains that Scully isn't angry enough. I mean, it sounds silly that someone ever would, right? Maybe it's because he doesn't identify himself as a fan. Maybe because I get excited when the Dodgers do well, it's considered my duty to get angrier when the Dodgers lose.
But Scully was and is an enormous influence on me. He sees every game as part of something bigger. He sees the team as part of a larger team, going all the way back to the borough of Brooklyn. He sees the grand timeline of the Los Angeles Dodgers and baseball, and knows that one bad inning, one bad game, one bad month, one bad season and more, are just part of the journey. He's able to see all that even as he nears the end of his own journey, however far away that hopefully remains.
* * *
Matt Kemp went 5 for 5 with a double and home run in the Dodgers' 10-5 loss to San Diego tonight, but his night was marred when he failed to score on that first-inning play Scully described above. James Loney was thrown out trying to reach third base on Casey Blake's single, the tag coming before Kemp crossed home plate.
When Kemp came up in the eighth inning, Scully discussed the play, not shying away from dealing with it objectively, but also without venom.
Scully certainly wouldn't say that fans aren't entitled to be upset about the fortunes of the Dodgers this year, but I do wonder why more fans don't follow the tone he sets. They worship him, but they don't emulate him. I don't judge those fans for it; I just find it interesting.
If the Dodgers don't salvage the 2010 season, you're going to see me continue to channel my inner Vinny, as best as I can. I hope to be insightful; I hope to be entertaining. I hope to comment without anger, to find joy amid the sorrow, to see the forest for the trees (and avoid cliches when I can). It's something I don't do enough of in my non-Dodger life, but here, in the one place I seem to be able to pull it off most of the time, I mean to sustain it.
In a life replete with doubt and disappointment, go with Vin.