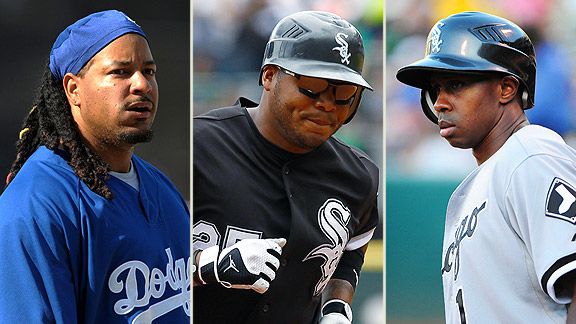 US Presswire, AP PhotosMurderers r'oh!
I'm hoping I'm the first one to point this out, but in any case, if the Dodgers' tailspin continues and they unload their current high-paid outfielder to the White Sox, as has been rumored, we'd have the potential of seeing Manny Ramirez, Juan Pierre and Andruw Jones in the same Chicago starting lineup. (I won't dare dream they'd actually play in the outfield together).
In the meantime, if he avoids any immediate setbacks, it appears Ramirez will start his latest minor-league rehab assignment this week.
* * *
The Dodger coaching staff is great at pointing fingers, except at themselves, writes Chad Moriyama of Memories of Kevin Malone.
… The coaches will yell and scream about wanting to win, and so will Ned Colletti, but when it comes time to committing to winning, they refuse to do it. From Garret Anderson to George Sherrill to Ronnie Belliard, the Dodgers front office and coaching staff have always refused to shed dead weight because it would hurt the feelings of veteran players.

Instead of doing anything to win like they tell their players to do, the powers that be simply talk a good game and nothing more. They talk about how they want to win at all costs, about how the players should want to do the same, and they talk about a sense of urgency. However, when it comes time to actually take the very actions that will help the Dodgers win, it's all bark and no bite. …
* * *
The Irony Committee approves this Ned Colletti quote on 710 AM ESPN (via True Blue L.A.) "You watch Ryan Theriot play, it's going to remind you of Blake DeWitt and how hard he plays."
From Dodger Thoughts commenter Nsxtasy1, in response to my  "A Team of Garret Andersons" post: During the same period, Garret Anderson has a .222 BA and .300 OBP. That's right, the team is doing so poorly since the break that Garret Anderson is outhitting the rest of the team. Yes, Garret Anderson."
The Dodgers are going with a less showy Matt Kemp poster at Friday's giveaway, writes Roberto Baly at Vin Scully Is My Homeboy.