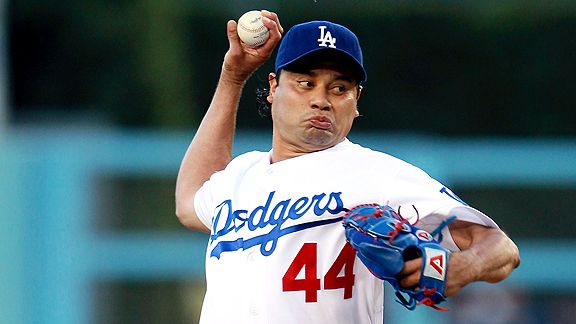 Jae C. Hong/APVicente Padilla
Vicente Padilla's extraordinary run of starts since returning from the disabled list in June nearly peaked with a no-hitter tonight at Dodger Stadium.
Padilla came within eight outs of the gem before allowing a line shot off the glove of a diving James Loney by Ryan Ludwick. Padilla gave up one other hit over his 105 pitches, settling for the fourth shutout of his career and second of the two-hit variety, and the Dodgers defeated the Padres, 9-0.
With the Dodgers seemingly losing a player a day, Padilla let everyone take their minds off their troubles. After walking two batters (one intentionally) in the second inning, Padilla retired 14 in a row before the Ludwick single. Since June 19, Padilla has pitched 60 innings and allowed 12 earned runs for a 1.80 ERA. His nine strikeouts tonight give him 52 in that time. He has not allowed more than two runs in his past eight starts.
The Dodgers, who have won consecutive games following their six-game losing streak, scored three runs in the second inning, the crowning blow a two-RBI dunker by Scott Podsednik. Ronnie Belliard added an RBI double in the third, and then Padilla – left to bat for himself in the bottom of the eighth following much suspense – drove in a run with his second hit of the night.
That kicked off a five-run inning for the Dodgers – their biggest output since a six-run inning July 3 – capped by a two-run homer by Andre Ethier. Ethier also had two doubles, while Casey Blake and Jamey Carroll added two hits for the Dodgers.
Dodger pitchers have held San Diego to a single run on five hits over the past two games combined. Since the All-Star Game, Dodger starting pitchers have allowed 35 earned runs in 123 innings for a 2.56 ERA.
If not a turnaround, tonight might amount to a false positive for a crumbling Dodger team, but temporary relief is better than none.