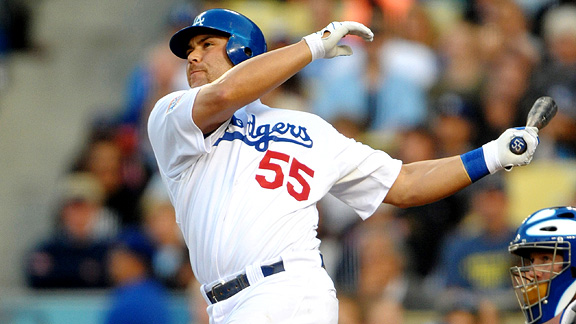 Kirby Lee/US PresswireRussell Martin
You won't have trouble finding people who think Russell Martin's potential season-ending hip injury is no big deal. "He wasn't hitting anyway, so who cares?"
Here's why it's a big deal, to both Martin and the Dodgers.
For all the decline Martin has had since his All-Star days not so long ago, the 27-year-old still brings a healthy on-base percentage to the table. This year, for example, Martin's OBP is .347. He's no Ted Williams, but that places him in the top 12 of major-league catchers with at least 150 plate appearances this year and fifth among catchers with at least 300 plate appearances. In other words, barely a handful of teams in the majors could match the Dodgers for catcher OBP.
With the Dodgers, Martin is sixth in OBP if you include semi-regulars Manny Ramirez and Jamey Carroll and the departed Blake DeWitt. Without that trio, Martin jumps up to third, behind Andre Ethier and Rafael Furcal – and of course, Furcal's status today is at least a bit uncertain. On a team struggling to piece together runs, Martin helped keep an inning alive more than most. And he was always there, until now.
The tandem of Brad Ausmus and A.J. Ellis probably can't match Martin's on-base production. Ausmus' .343 OBP in limited duty last season was his highest since 2005 in Houston. Ellis can do better than the .246 OBP he has had in his short major-league career – he has hung consistently over .400 in the minors – but it's a leap to suggest that he can jump to one of the highest catcher OBPs in baseball.
If that's a drop-off, the decline of power in Martin's absence might be more of a dive. Yes, Martin's power has disappeared, his slugging percentage falling from .469 in 2007 to .330 in 2009-10. But that's still higher than the .311 slugging Ausmus has had since turning 34 seven years ago. Meanwhile, Ellis has had a sub-.400 slugging percentage with zero homers in 100 games at Albuquerque over the past two seasons – so forget about him showing any power in Los Angeles. Whatever you think of Martin's power, these guys are worse.
Some might be prepared to give Ausmus and Ellis points for defense, and maybe they're right. But Martin, who was ripped for his work behind the plate in 2009, showed something closer to his Gold Glove form this year in my subjective opinion, including a much-improved throwing arm. He has thrown out a career-high 39 percent of runners trying to steal. The Dodgers are tied for 11th in baseball in fewest stolen bases allowed, with 10 of the 55 coming on Ellis' watch in only 133 2/3 innings behind the plat (one every 13.3 innings) compared to 43 in 791 1/3 for Martin (one every 17 innings).
The chances of the Dodgers finding someone outside the organization to replace Martin this season are slim to none considering the available options – which, keep in mind, would come at a cost – and frankly, it's not like it will get easy in the offseason.
All that being said, you really do have to wonder whether Martin will be back with the Dodgers in 2011. Despite what is perceived to be a poor 2010 season that has now been marred by health concerns, the arbitration-eligible Martin can expect a raise to about $6.5 million in salary for next year. (If that seems unfair to you, remember that he got paid $1,187,500 for 2006-08 combined.) Even a hale and hearty Dodger front office might balk at that figure for a catcher with Martin's productivity concerns.
Now, the Dodgers might look at the options and negotiate a deal with Martin – the team rarely takes cases to arbitration, after all. But it's very possible that Martin and the Dodgers will be going their separate ways to fend for themselves.
What a sad, unexpected ending that would be. Inside of two years ago, Martin was so important to the Dodgers in my mind that he was the only active player to get a separate chapter in my book – a great catcher, and a great Dodger. Even though he hasn't been the same the past two years, this might be the end of an era, and it shouldn't pass without notice.