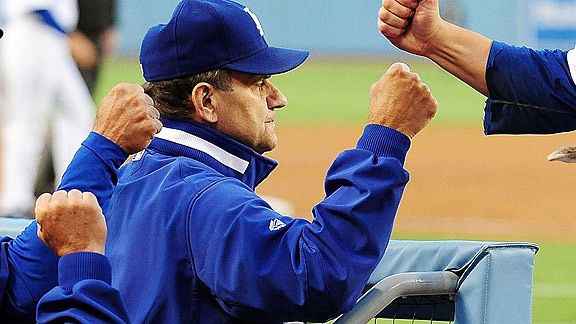 Gary A. Vasquez/US PresswireJoe Torre will soon announce his decision about his future with the Dodgers.
As the Los Angeles Dodgers' 2010 season lurches between dramatic recovery and drab disappointment, time will soon run out for Joe Torre to make the decision on his managerial future — or, to announce the decision he has already made in his heart.
If Torre, whose contract with the Dodgers expires this year, chooses retirement, the national media will stir into a hurricane of coverage. And in that hurricane, Los Angeles will be the eye, the shrug amid the storm. The local press will certainly cover the story, but Dodgers fans will be looking ahead (perhaps with fear) at what's to come, and not back at the man who has left.
Nearly three seasons into his post-Yankees tenure on the West Coast, Torre remains more a baseball manager than a Dodgers manager, more an ambassador and icon than an integral part of the City of Angels.
This is reflective of two things, neither of them particularly damning toward Torre. In certain respects, Torre has been a welcome relief in Los Angeles, steering the Dodgers to the most success since the Tommy Lasorda days, leading with a combination of class, calm and clarity not witnessed since Walter Alston. More than two decades since the team's last World Series title, more than one decade since the organization was last thought of as noble, these are not qualities to be taken for granted.
But presuming the Dodgers don't rally from third place in the National League West today into the World Series two months from now, the aftershocks of a Torre departure will be felt in Los Angeles far more modestly than in the baseball community at large.
For one thing, Torre, unsurprisingly, proved human. He has given plenty of ammunition to anyone inclined to second-guess the manager — a big group of people, to say the least — no matter what they believe to be the right move. His lineups, his in-game strategy and above all his bullpen management have found criticism on a daily basis. Jaded Yankees fans warned Los Angeles about Torre throughout the winter after he was hired (in a mild precursor of the intensity with which jaded Red Sox fans warned the city about Manny Ramirez the next summer). Torre is no less immune to this second-guessing than the average manager, but up close, the halo grew a little hazy.
"To me," one Dodger Thoughts commenter said, "a manager or head coach puts players in positions to succeed, helping them grow as athletes and becoming better so they can help the team. I don't see that with Torre. Be it bringing [Jonathan] Broxton in non-save situations only to need him the next game after he threw 20 to 25 pitches the night before, making [Chad] Billingsley go out for a seventh inning after throwing 115 pitches one day after pulling [Clayton] Kershaw after eight when he only threw 95 pitches, I can go on and on with this."
On a grander scale, if you leave Los Angeles without winning a championship, it means you leave without a parade, literally or figuratively. Anything but the passive bunch they are made out to be, most sports fans in Los Angeles are harsh on those who fall short of the ultimate prize. Lakers coach Phil Jackson sets the local standard for excellence today, and even he must constantly prove himself — to the point that until the final moments of Game 7 in his latest NBA Finals, it was not clear whether he would be welcomed back for one more season.
This, after all, is a city that just mourned the passing of its greatest coach, John Wooden. Compared to that, a Torre departure following a disappointing season figures to raise barely a ripple.
There's also the fact that Torre has always felt like something of a visiting professor here. There was a ticking clock –partly self-imposed by Torre — from the moment he hastily replaced Grady Little in the fall of 2007. Torre has been liked by many and loved by some — but he hasn't penetrated the hearts of Los Angeles' baseball community in a meaningful way. His ties to New York's string of World Series titles can't be broken by a couple of NLCS runs. It took Jackson several NBA crowns before Lakers fans could begin to feel that the former Chicago Bulls coaching legend was really theirs. Torre is never going to reach that level in Los Angeles, and the people here intuitively know this. It's noteworthy that the single act Torre might be most remembered for as Dodgers manager could be coaxing the greatest Los Angeles Dodger of them all, Sandy Koufax, into a rare public conversation earlier this year.
Lasorda, who hasn't managed the Dodgers in nearly 15 years, who barely won half his games and no pennants in his final 7 1/2 seasons, who is more than a figurehead with the organization today but not much more, and who remains a more complicated, polarizing figure than his "Baseball Bunch" persona would suggest, will be an exponentially bigger story in Los Angeles when he bids farewell to the Dodgers organization (or when they pry the organization from his tightly gripped hands). Lasorda, for all his faults, won his two World Series and bled the blue. And then there's Vin Scully, too overwhelming to even talk about. Today, legendary KTLA TV reporter Stan Chambers bids farewell to the station after 63 years on the air. By that measure, Torre is agate, type locally.
Things might have been different if the Dodgers had been able to take advantage of their chances to even the 2008 and 2009 NLCS at two games apiece. But Torre's magic couldn't save Los Angeles those years, and now the odds are against him doing any more.
"My feeling is that Torre won in New York because of an unlimited payroll, though he couldn't do it every year," another Dodger Thoughts commenter said. "That's not necessarily to say he's bad under a more financially constrained regime, but I consider him replaceable in every aspect except his celebrity (which he owes to his time in New York City). I would not miss him, but I'd like to see him go out with a World Series championship – which, however, would probably bring a clamor for him to stay."
Anything can happen over the final eight weeks of the 2010 regular season. But if Torre retires, something tells me that while the national baseball media is spending time reflecting on the void Torre leaves behind, Los Angeles will be much more preoccupied about who's filling it.