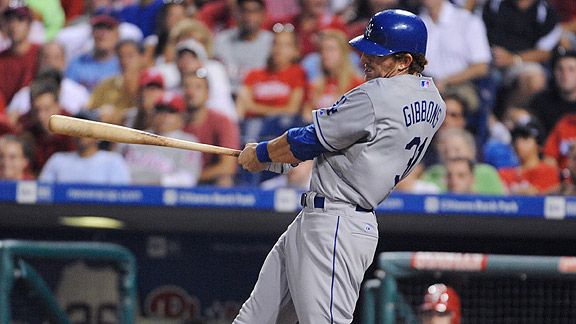 Barbara Johnston/US PresswireJay Gibbons hit a two-run homer in the sixth inning to give the Dodgers an 11-5 lead.
Newest Dodger (at least for one more day) Jay Gibbons became the Dodgers' all-time leader in OPS – minimum five career plate appearances with the team – going 3 for 4 with a home run in the Dodgers' unusually bloated 15-9 victory over Philadelphia tonight.
Gibbons' OPS of 2.200 (three singles and a homer in five trips to the plate) breaks the record of 1.467 previously held by Pat Diesel of the 1902 Brooklyn squad and Orlando Mercado, who had two singles and a double in five at-bats at the end of the 1987 season, which I never knew about because I was traveling through Europe. Ah, those were the days.
Well, to quote Natalie Merchant, these are days, as well. Andre Ethier had three singles, a double, a walk and was hit by a pitch tonight, becoming the first Dodger to reach base six times in a game since Russell Martin on April 25, 2008. Before that, the last Dodger to do it was Shawn Green during his four-homer game in 2002. The feat has been achieved 22 times in Los Angeles Dodger history.
Casey Blake also homered as the Dodgers reached base 25 times in all, scoring a season-high in runs and giving them 23 in their past two games. Perhaps we can say they emerged from their slump: The Dodgers have broken the five-run barrier four times in their past eight games. On the other hand, tonight's pitching …. we won't get into that.
* * *
Rafael Furcal, already sidelined for eight days with back issues, finally submitted to spending at least the next week on the disabled list, reports Tony Jackson of ESPNLosAngeles.com. Juan Castro is expected to be Wednesday's newest Dodger – his third sojourn with the team.