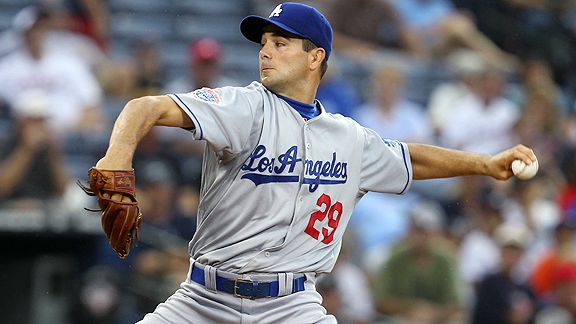 John Bazemore/APTed Lilly
In a relief of a win that could have been another vexatious loss, the Dodgers funneled 12 hits into only two runs, but made them stand up for a 2-1 victory over Atlanta on Saturday.
Major credit for the result goes to Ted Lilly, who had his third consecutive sharp start since coming to Los Angeles. Lilly allowed five baserunners over six shutout innings, lowering his ERA with the team to 1.89. He has allowed 10 hits and two walks while striking out 15, and if the rest of the team were jelling, we'd be talking in glorious tones about how he was spearheading the Dodgers' pennant drive.
As it is, even if he keeps up this pace and makes me look bad for questioning his consistency (though I also said "undoubtedly, Lilly will provide some short-term gain in the rotation"), he does figure to have only about 10 or fewer starts left in a Dodger uniform before leaving as a free agent. So I'm still feeling a little bittersweet about him. But so far, he has absolutely pitched well – a perfect fit for the team.
Octavio Dotel even chipped in 1 1/3 perfect innings tonight; he has retired 14 of 19 batters as a Dodger since coming from Pittsburgh.
Staying with the theme of new players, I'll even throw a little love Scott Podsednik's way, reluctantly. Podsednik went 3 for 5 tonight and now has 12 hits and two walks in his past five games. Of course, that's outstanding.
Now, without this incredible hot streak – which he won't be able to maintain – Podsednik will revert to being that ordinary player that I still don't really want much part of. Even as well as he has played for the Dodgers, Podsednik has two extra-base hits in 74 plate appearances with the team. I'm willing to live with a sub-.400 slugging percentage from my catcher (Russell Martin) or my utility infielder (Jamey Carroll) if they're getting on base a lot. But from my left fielder, I think the offense needs more. And if a hot streak of singles convinces the Dodgers that this is the guy they want starting in left field next year, at age 35, that's going to make me even more unhappy.
Living in the now, though, Podsednik has provided an admitted boost. I'm going to be even more of a sourpuss with regard to Ryan Theriot, however.
Theriot has been a poor man's Podsednik, going 2 for 4 tonight to give him a .283 batting average as a Dodger. That has made a lot of observers feel good about the trade, but it's an empty .283: accompanied by a .328 OBP and .302 slugging percentage. He may be a better fielder than Blake DeWitt, but again, I feel like this has opened the door for the Dodgers to settle for aging mediocrity when they need something better. (By the way, DeWitt's numbers since leaving the Dodgers and his overall 2010 numbers remain better than those of Theriot.)
Right now, there's no doubt the Dodgers added talent in the short term last month, at a time when there was legitimate postseason hope. That pretty much fulfills the mission as Ned Colletti saw it, I imagine. He has gotten results.
And yet it all feels so temporary …