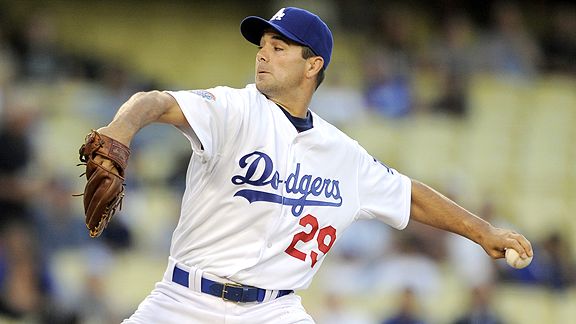 Chris Carlson/APThe Manny Ramirez of Dodger deadline-day pitching acquisitions
I'm trying to think of the last time someone made me look as bad as Ted Lilly and his 1.29 ERA as a Dodger have. Not sure anyone has done it quite like this since I've been doing Dodger Thoughts. Maybe someone during my woebegone dating adventures of the 20th century? Or maybe I have to go all the way back to the time in grade school I challenged Brad Saunders to a tennis match and he waxed me, 6-0, 6-1 (and that 1 might have been charity).
Anyway, it wasn't like I thought Lilly would be bad, but I certainly never dreamed he would be this good. I tip my embarrassed hat to him.
Dodgers 2, Rockies 0. Nine innings, two hits, two walks, 11 strikeouts and no runs for Lilly, his third career shutout (first since 2004) on 110 pitches.
Reed Johnson's two-run homer, his first of the season, gave Lilly the chance at the win.