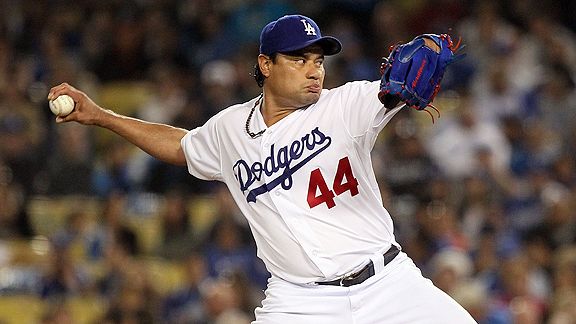 Jeff Gross/Getty ImagesAfter allowing eight earned runs in eight starts from June 25-August 4, Vicente Padilla allowed 12 in his past two outings.
Perhaps the next time Vicente Padilla slumps, we should just assume he's hurt.
Padilla got off to a poor start this season, and it turned out he needed to go on the disabled list.
Then he came back, and got red-hot for a while.
Then he slumped, and it turns out he needed to go on the disabled list — with a bulging disc in his neck, as Tony Jackson of ESPNLosAngeles.com reports …
Both (Joe) Torre and Dodgers director of medical services Stan Conte said the injury is nothing they didn't know about, but that Padilla wanted to try to pitch through it. Torre admitted that the injury was a major factor in Padilla's ineffectiveness in those two starts, when he gave up 12 runs on 14 hits over 9 1/3 innings.
Carlos Monasterios, who pitched 5 1/3 innings this month, most recently facing eight batters Sunday, is now a potential starter in Padilla's place Friday, and Travis Schlichting is coming back from Albuquerque.
* * *