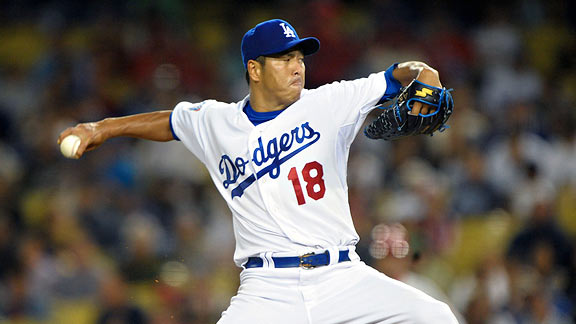 Kirby Lee/US PresswireHiroki Kuroda
You know, it might have been enough of a silver lining just to be celebrate Hiroki Kuroda's first hit of the season, coming in his 46th at-bat.
But we were five outs away from something even more transcendent – the cathartic thrill of celebrating a Kuroda no-hitter – before Shane Victorino's one-out single to right field in the top of the eighth inning of the Dodgers' game against the Phillies tonight.
Part of the thrill would have been feeling that the no-hitter could hardly have happened to a nicer Dodger.
Kuroda walked two, hit a batter, struck out six and raised his season batting average to .022 before the first H went up against him. He struck out a seventh batter, and then Hong-Chih Kuo relieved him with two out in the eighth, inducing a first-pitch force-out from Mike Sweeney. Kuo then pitched a perfect ninth to wrap up the combined one-hitter, a 3-0 Dodger victory.
"The funny thing is, decisions will be made, games will be won or lost, we'll all think we know more than we did – and then we'll still be blindsided by something new, as Dodger fans always have been," I wrote two days ago. Kuroda almost singlehandedly proved that. And although he fell short, to quote from the movie "Diner," it's a smile.