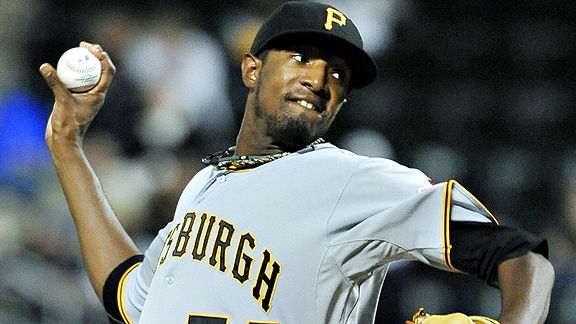 Kathy Kmonicek/APJames McDonald pitched eight shutout innings for the Pirates on Monday.
It's not like he's got the upside of Carlos Santana, but will you look at what James McDonald is doing for Pittsburgh?
McDonald has a 3.49 ERA in eight starts with the Pirates. That includes five runs he allowed in the seventh inning of a game in which Pittsburgh couldn't come to his rescue in time; otherwise his ERA with the team would be 2.59, with more than eight strikeouts per nine innings.
The most telling stat in the above paragraph? Eight starts. That's three more than McDonald had in his Dodger career, and they've all come right in a row. Even if McDonald had a disappointing start, Pittsburgh put him right out there again.
Now, perhaps that's a luxury that the Pirates can afford that the Dodgers felt they couldn't. And maybe McDonald needed the so-called change of scenery — although I think that's more often a mythical benefit than a real one. Maybe this is just McDonald's version of Elymania, a hot streak whose end is around the corner.
The fact remains, the Dodgers parted with their two-time minor league pitcher of the year and an effective member of their 2009 bullpen, earning a minimum salary, in order to acquire Octavio Dotel. They nurtured McDonald through eight years in the organization, and then gave up too soon.
* * *
Ramona Shelburne, on a roll, continues reaping the rewards of her investment of time in the Albuquerque Isotopes with this ESPNLosAngeles.com feature on Dodger managerial candidate Tim Wallach. The Wallach bandwagon has enough momentum that it's going to be quite jarring if he doesn't get the job.
* * *
Update: Jack Moore of Fangraphs says McDonald's peripheral stats compare well with David Price of Tampa Bay.