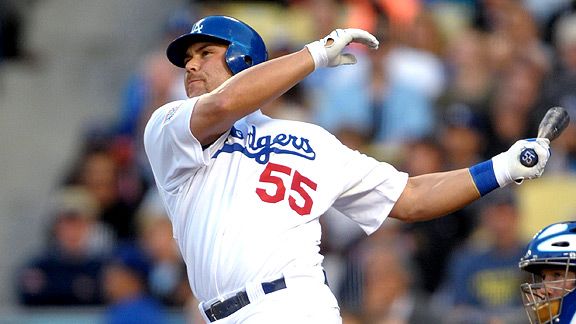 Kirby Lee/US PresswireRussell Martin: Just one of the many questions the Dodgers face this winter.
The Dodger roster heading into the 2010-11 offseason, and I don't say this lightly, is a mess.
It's not a hopeless mess. But it is a mess, and it's going to take some skill from the crew in charge to clean up. It's a goop of oil and water, an unsightly combination of having to fill holes while also figuring out which rising salaries to jettison and which to risk holding onto.
Oh, and when the 2010 season ends, the No. 5 starter on the 40-man roster, at least by major-league experience, will be someone who hasn't pitched in a professional game in four months: Scott Elbert.
The Dodgers have one absolute jewel on the team: Clayton Kershaw. The team's top player won't be arbitration eligible for one more year and only figures to earn approximately $500,000 in 2011.
Then, there are a few players whose higher salaries the Dodgers won't mind paying. Chad Billingsley, who will command somewhere in the neighborhood of $6 million, knocked down many of the questions others had about him with a resurgent 2010 season. Hong-Chih Kuo will draw low seven figures, and after the way he has persevered and performed, no one should begrudge him. Kenley Jansen will make people swoon, and only receive the major-league minimum pay and meal money in return.
So much for the good news. Now, the concerns:
Rafael Furcal surely remains talented, but the Dodgers have $12 million going to a player who has averaged fewer than 100 games per year since 2008.
Slumping reliever Jonathan Broxton's final season before free agency is tagged with a $7 million salary.
Coming off an injury that ended his second straight disappointing year, arbitration-eligible Russell Martin would also get as much as $7 million if the Dodgers don't non-tender him.
Andre Ethier looked like an MVP at the start of the year; by the end, his $9.25 million 2011 salary for an outfielder who struggles against lefties didn't seem like quite as much of a bargain.
Lightning Rod Award-winning outfielder Matt Kemp has $6.95 million coming next year.
Casey Blake, game but aging, gets $5.25 million in the final chapter of his three-year deal.
By now, James Loney should have developed enough that the $4.5 million he is projected to earn next year should have seemed closer to a bargain than a burden, but his second-half disappearance hasn't helped matters.
Incumbent second baseman Ryan Theriot and his sub-.700 OPS will bring home about $3.5 million if the Dodgers hang onto him.
In sum, that's about $55 million committed to a series of question marks, some small, some large. In addition, Los Angeles owes approximately $17 million of its 2011 budget to (swallow hard) Manny Ramirez, Juan Pierre, Andruw Jones and Jason Schmidt — the price for turning past mistakes into the playoff teams of the previous two years.
Overall, the Dodgers on paper have close to $100 million — a figure that might well be at or above their budget limit — committed before they make a single offseason move.
Now, all is not lost. The Dodgers can and probably will gain roughly $12 million in breathing room if and when they bid farewell to George Sherrill, Octavio Dotel, Scott Podsednik and Brad Ausmus (who has said he will retire). Meanwhile, free agents Jay Gibbons and Rod Barajas should start to help shore up the bench for under $2 million combined. And it should be noted that not all of the above question marks will have negative answers.
Nevertheless, that still leaves the Dodgers at about $90 million in payroll, with John Ely as their No. 3 starter and serious questions about most of their offense. As shaky as their lineup now looks, and however aggressive the Dodgers might want to be with the latest crop of prospects, the Dodgers absolutely have to add at least two more starters, whether through free agency or trade, whether Ted Lilly, Hiroki Kuroda or outsiders.
It's for this reason that unless the team salary budget goes up, the Dodgers almost certainly will trade or non-tender a 2011 contract to at least one from the group of Broxton, Kemp, Ethier, Loney and Martin. Loney, because he has the lowest salary, might be most likely to stay – he's finishing the year as a disappointment at first base, but he's not finishing the year alone as a disappointment. In any case, all of them have something to offer other teams that might be, as hard as it is for some to digest, more willing to spend than the Dodgers are.
An Ethier trade would be a shock, for example, much more than a Kemp trade, but who can say it's out of the question now?
However this plays out, the Dodgers may well bring back many of the same players next year who boosted them to National League Championship Series appearances in 2008-09 and sunk them in 2010. In one respect, nothing will have changed: You're always hoping players move forward, like Kershaw and Billingsley, and not backward, like Kemp and Loney and Broxton and Martin and so on. Good does sometimes follow bad, after all. But still, it's going to be a nervous offseason for a lot of us.
Sure, BP had it tougher. But as cleanup goes, this is as thick a goop as Chavez Ravine has seen in quite some time.