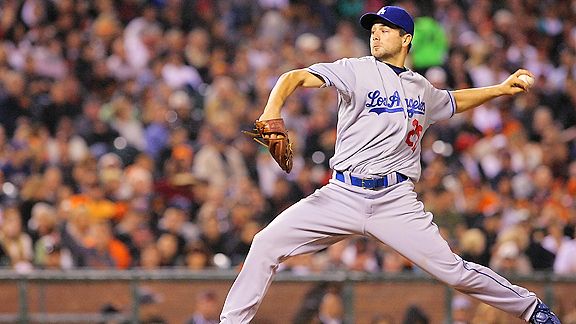 Dave Stephenson/Icon SMITed Lilly has allowed 11 homers and 10 walks since being acquired by the Dodgers.
On Trade Deadline Day, I got some grief for calling Ted Lilly "an inconsistent, 34-year-old pitcher in decline" – not so much about the "34-year-old pitcher part" as the other parts. I did say he would improve the rotation, but I saw some warning signs (which made me skeptical that the benefit would be worth the cost of the trade, which included swapping Blake DeWitt and two prospects and getting back Ryan Theriot).
In the immediate aftermath, Lilly pitched exceptionally, something I acknowledged most directly about a month ago following his two-hit shutout of the Rockies. But looking at Lilly today, the question marks about him haven't gone anywhere.
Lilly, who had a 1.29 ERA in his first four Dodger starts, has had a 7.09 ERA since. Those numbers are skewed by two extremely poor starts – he has had quality starts in seven of his nine games as a Dodger. In any case, right now, Lilly has a worse ERA in 2010 than he had in 2009, and a worse ERA as a Dodger than he had as a Cub. So for all the plaudits he has received as a Dodger, his trajectory isn't a straight upward line. And, he's still 34 – he'll be 35 in January.
None of this is to denigrate what Lilly has proven capable of – seriously, he's done good – but simply to be on guard for what Lilly is going to be worth going forward.
According to several reports, both Lilly and the Dodgers seem to want come up with a deal that would bring the free agent back to Los Angeles in 2011. And heaven knows, the Dodgers need pitching for next year. But there's a real risk of overpaying for Lilly.
Last winter, many Dodger fans felt the team couldn't live without Randy Wolf. Milwaukee committed $29.25 million to Wolf for 2010-2012, and in the first year of that contract, he has been a below-average pitcher. And now he's 34.
The winter before, many Dodger fans felt the team couldn't live without Derek Lowe. Atlanta committed $60 million to Lowe for 2009-2012, and in the first two years of that contract, he has been a below-average pitcher. And now he's 37.
Perhaps the best analogy to made with Lilly, however, is to use Casey Blake, a midseason acquisition who performed well at age 34 (35 that August) for the Dodgers in 2008, thus encouraging the team to sign him for three more years. They got in return a solid third baseman in 2009, a borderline one in 2010 and who knows what for 2011. The most likely path for Lilly would be similar.
One of the criticisms I got of my original assessment of the Lilly trade was that I failed to take his pre-2009 seasons into account, several of which (including a few in his prime) were poorer than his 2010 season. So how could I say he was in decline? Well, he was clearly in decline since 2009. If you want to look back farther than that, then you have a pitcher who was medicore at times, improved, and then most recently started to slip again.
Everything depends on cost, but based on what Lilly figures to command on the free agent market, if the Dodgers sign him, it could turn out to be a deal that looks good at first and not good at all in the end. The thing is, given the pitching vacancies the Dodgers are facing for 2011, that kind of fate with Lilly, Hiroki Kuroda or whomever might be unavoidable.