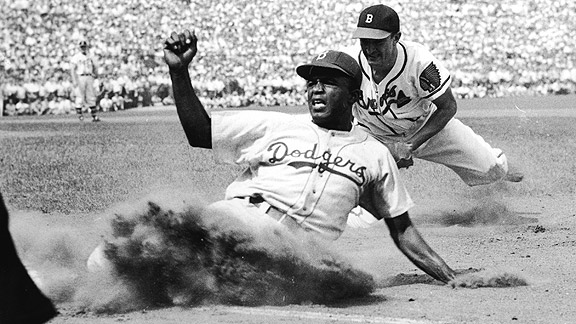 Bruce Bennett Studios/Getty ImagesJackie Robinson
While poking around the Dodgers' all-time seasonal sacrifice hit leaders Friday to come up with the tidbit on Clayton Kershaw, I noticed that Jackie Robinson had the bold-face total of 28 in his rookie year, 1947. (I mentioned this in the comments section, but felt it trivially interesting enough for a separate post.)
Times were different then, obviously, but I still found it rather stunning. This was a year in which Robinson hit .297 with 74 walks and 48 extra-base hits and led the National League in stolen bases. He grounded into five double plays in 590 at-bats. There probably weren't many hitters for whom the sacrifice was more of a waste than Robinson. Yet there he was, squaring up more than anyone around.
In fact, in a 15-game stretch from August 10-23, during which Robinson OPSed .998, someone thought it'd be a good idea for him to sacrifice bunt eight times. My way of putting that in perspective: Robinson had more sacrifice hits in those two weeks than Rickey Henderson had in 1,746 games from 1981-93.
It was a long time ago, but I wonder if there was anyone who noticed Robinson was red-hot at the plate and wondered when they were going to stop making him give himself up.
* * *
My favorite part of Arash Markazi's ESPNLosAngeles.com column on Manny Ramirez's return to Southern California:
Dodgers organist Nancy Bea Hefley and her husband, Bill, drove down to Anaheim to catch up with Ramirez and (Juan) Pierre, before leaving for their home in northern Nevada prior to the opening pitch.

"When Manny arrived, the team wasn't doing anything and he just brought a spark," said Hefley, who gave Ramirez and Pierre a big hug each in the visitor's dugout. "He brought a spark to the team in the dugout and on the field and made it very exciting." …
* * *
Shades of Randy Wolf: Ted Lilly should clearly be offered salary arbitration after this season, though he will probably turn said offer down, writes Mike Petriello of Mike Scioscia's Tragic Illness.
Petriello also passes along this note from Mark Whicker of the Register that outfield prospect Jerry Sands will experiment at third base in the Arizona Fall League. Whicker's main point in his column is that the Dodgers shouldn't give up on their homegrown core, despite this year's frustrations.