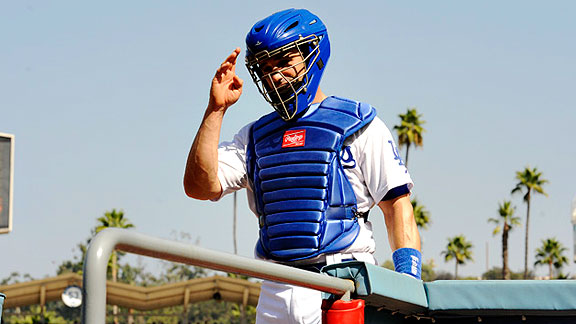 Courtesy Jon SooHoo/Los Angeles DodgersBrad Ausmus
Farewells and me do not agree. They bring a lingering pain. I begin taking a long look back before I've even left.
I've been looking to the end of these grueling final weeks of the Dodger season as something of a relief, but this weekend reminded me of all the things I love about the game (minus the postseason triumph, of course). Today, when the Dodgers had the opportunity to send me off with a "Good riddance" affair, they pulled me back in, just as we were saying goodbye.
There was yet another fine pitching performance, this time from Ted Lilly. There was yet another blast from Matt Kemp, off a Rodrigo Lopez meatball, giving Kemp home runs in his final five games of the year and birthing the possibility of his redemption. There was a Dodger victory the way we hoped more of them would come. There was beautiful weather, a beautiful ballpark and beautiful family all around me.
There was Joe Torre's farewell from uniform, perhaps forever, after the heartiest of careers. There was John Lindsey's farewell from uniform, perhaps forever, after the briefest of careers.
Most of all the events on the field, what reached me was Brad Ausmus. I had been the sourpuss who disapproved of signing Ausmus each of the past two seasons, figuring that what he would be able to contribute wasn't worth what he would pay. But today, watching his final moments on the field steeped the emotions already brewing within me. I felt privileged to be able to cheer him on, right up to his 1,579th career hit in his final at-bat.
And so when Hong-Chih Kuo got the season's final out, and it was all over, I felt I had to just short of literally tear myself away from my favorite seat in all of the world.
These emotions will be hard for many to understand, coming at the end of a misbegotten season. They even surprised me some.  But there they were. We'll all move forward, myself included, but I left something behind this year. I can't explain it any better than that.
Though the commenting declined at Dodger Thoughts this season (and the main reasons for that aren't lost on me), I still do appreciate any and all of you stopping by to say hi and share your thoughts. Of course, there will be plenty going on here in the offseason, but in any case, here's to all the best for all of you going forward.
* * *
3) Kemp finished the year with a career-high 28 home runs to lead the team by five.
4) Kemp passed Loney at the finish, lapping up his 88th and 89th RBI to Loney's 88.
6) Rafael Furcal used up his one free at-bat, finishing the year with a batting average at .3002.
7) There was one drive off Ted Lilly that looked like it might have some distance, but in the end he gave up no home runs while walking two, and finishes his Dodger season with 13 walks and 12 homers allowed.
8) Jamey Carroll got four plate appearances, but he kept his 2010 homer ledger clean.
Two more notes: Kuo finished with the lowest ERA in Dodger history for a pitcher with at least 50 innings in a season. His 1.200 mark just barely bested Eric Gagne's 1.202 from 2003. Also, Kenley Jansen's 0.67 ERA is the fourth-lowest in major-league history for a rookie with at least 25 innings.