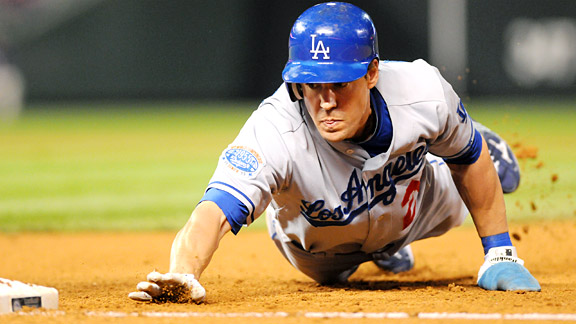 Dustin Bradford/Icon SMIScott Podsednik has dived into a new organization four times since 2008: Rockies, White Sox, Royals, Dodgers.
Scott Podsednik has chosen free agency over the guaranteed $2 million contract he could have had with the Dodgers for 2011. ESPNLosAngeles.com has details.
Podsednik made $1.65 million plus incentives in 2010. He hasn't ruled out returning to the Dodgers, meaning that he thinks he can get even more for his services from Ned Colletti.
* * *
Bill Plaschke of the Times talked to both Davey Lopes and Colletti about the prospect of Lopes returning to the Dodgers as a first-base coach and baserunning instructor. I would characterize the quotes as encouraging.
* * *
Farewell, Sparky.