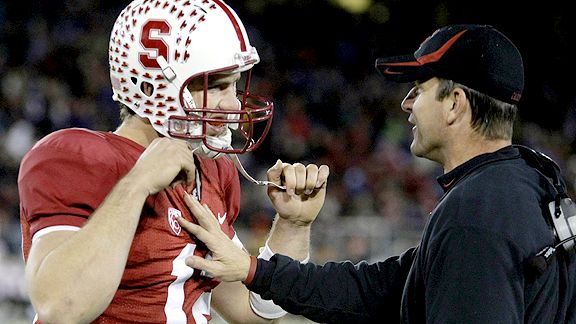 Paul Sakuma/APAndrew Luck and Jim Harbaugh
Forgive me, but I have to give a shout for my alma mater, which has gone from 1-11 four years ago to 11-1 tonight. Stanford has had a brilliant season, pitching three shutouts while scoring at least 30 points in all but one game and winning eight times by at least 20 points. There have been a couple of close calls, but mostly it has been dominance, with the Cardinal's only loss coming on the road to the nation's No. 1 team after leading at halftime.
Stanford should be ranked No. 4 in the BCS standings after tonight's games. I'm rooting for a couple of wins and a couple of losses in the right places, in the hopes that Oregon and Stanford might finish Nos. 1-2 in football. But however it turns out, it's been a spectacular year for these players.