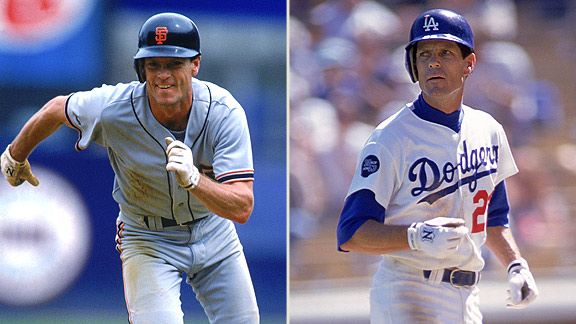 Getty Images"He was sentenced to be my Butler."
Juan Uribe is poised to become the 47th player to wear both a Giants and Dodgers uniform since 1988, according to Baseball-Reference.com via ESPN Stats and Information (which also provides this analysis of the Uribe signing).
Though signing ex-Giants might seem a Ned Colletti fetish, the players have been going between the two teams in a relatively steady stream over those past 22 years, with hardly a moment, if any, in which at least one player on one team hadn't at one time played on the other.
If you'll allow for the somewhat subjective characterizations below, you'll find that the Giants and Dodgers have had similar success (or lack thereof) with transplants. The number of players who have made relevant contributions to both teams is only five (and that includes Matt Herges and Marquis Grissom as "relevant"). Conversely, nearly half of the players on this list have been pretty much meaningless for both teams.
By the same token, the number of players going from relevancy with one team to irrelevancy with the other, or vice versa, has been practically equal.
If there's any sort of noteworthy differential, it's been that the Dodgers have been more likely to make an irrelevant Giant fill the same role in Los Angeles. I mean, really – 15 of these guys?
Anyway, I'm more than a bit concerned that Uribe will become relevant-Giant-turned-irrelevant-Dodger No. 9, but Dodger fans can hope for the best.
Relevant Giant becomes relevant Dodger (2)
Brett Butler
Jeff Kent
Relevant Dodger becomes relevant Giant (3)
Marquis Grissom
Matt Herges
Dave Roberts
Irrelevant Giant becomes irrelevant Dodger (15)
Troy Brohawn
Gary Carter
Dennis Cook (pitched well but briefly for both teams)
Jose Cruz, Jr.
Roberto Hernandez
Shea Hillenbrand
Ricky Ledee
Justin Miller
Terry Mulholland
Rick Parker
F.P. Santangelo
Cory Snyder
Mark Sweeney
Jack Taschner
Rick Wilkins
Irrelevant Dodger becomes irrelevant Giant (6)
Dave Anderson
Todd Benzinger
Eric Davis
Tom Goodwin
Jim Poole
Jose Vizcaino (twice)
Relevant Giant becomes irrelevant Dodger (8)
Brian Johnson (afraid so)
Darren Lewis
Ramon Martinez (II)
Brent Mayne
Bill Mueller
Russ Ortiz
Jason Schmidt
Brett Tomko
Relevant Dodger becomes irrelevant Giant (6)
Steve Finley (a half season in L.A., but a big one)
Orel Hershiser
Guillermo Mota
Brad Penny
Darryl Strawberry (had big '91 season)
Eric Young
Irrelevant Giant becomes relevant Dodger (3)
Wilson Alvarez
Trenidad Hubbard (hit .304 in 313 at-bats in Los Angeles)
Kenny Lofton (hit .301 in Los Angeles)
Irrelevant Dodger becomes relevant Giant (3)
Stan Javier
Felix Rodriguez
Cody Ross (afraid so)