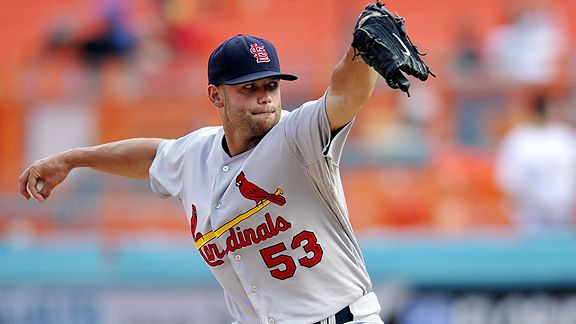 Steve Mitchell/US PresswireBlake Hawksworth
It's not always about making an impression.  On June 7 against the Dodgers, Blake Hawksworth had his worst outing of 2010, allowing six runs in four innings.
But with Juan Uribe's signing (made official today) rendering Ryan Theriot irrelevant, the Dodgers shipped the temporary second baseman off to St. Louis in exchange for Hawksworth.
The North Vancouver-born righthander, who will be 28 in March, had a nice debut season in 2009, posting a 2.03 ERA in 40 innings of relief despite striking out only 4.5 per nine innings. In 90 innings over 45 appearances this past season (including eight starts with a 5.83 ERA), Hawksworth's ERA soared to 4.98.
In other words, he'll fit right in with a Dodger bullpen that is looking for a number of comeback performances.  But considering that Theriot was about to be non-tendered a contract, for nothing in return, Hawksworth will suffice as a salvage operation.