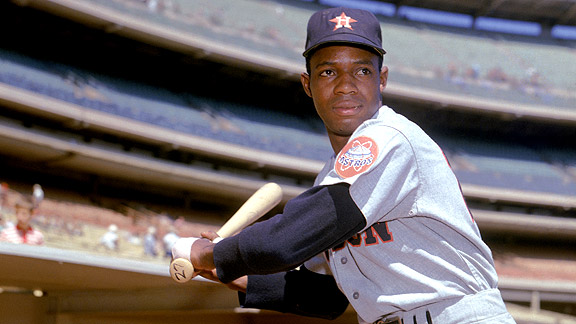 Louis Requena/MLB Photos/Getty ImagesJimmy Wynn played 11 seasons in Houston before coming to the Dodgers.
Former Dodger Jimmy Wynn recently came out with his autobiography. David Laurila of Baseball Prospectus has a good interview with him. Some excerpts:
DL: In the book, you talk about how the South wasn't yet fully integrated when you were in the minor leagues.

JW: That's so true. There were certain areas in Florida and the Florida State League where I played my first professional season [in 1962]… there were certain places in Florida that didn't cotton to a black ballplayer playing in a white sport. Of course at that time, you know, I was called all kinds of names. I'm just fortunate that I wasn't prejudiced at that time—and I'm not prejudiced now—and I was very fortunate that my father taught me the etiquette of being who you are and staying with that concept. I've lived with that concept for years and years now, and I've never deviated from that.

One of the things about the different name-callings that happened in Florida was that I had two great managers. One was Hershell Freeman, who did everything possible to make sure that I wasn't hurt from the name-calling. He defended me a great deal. The other was Johnny Vander Meer, who everybody knows about because of the two no-hitters back-to-back. I had two great guys who I respected a great deal, and they were more or less like father figures to me. …

DL: In the book, you say that you lost the 1967 home-run crown to "the greatest legitimate career home-run hitter of all time."

JW: Yeah, so to speak. I lost it and Hank [Aaron] and I became really good friends, mainly because of what he said to me. He called me and told me that he was going to sit out the last game of the season, and him and I would be the co-home-run champions of the National League. I said that I would love that, but that something was going to happen. And it did. I think the commissioner of baseball found out that Hank was going to sit out the last game and he didn't want him to, and he called Hank and told him he had to play. Consequently, Hank played and hit two home runs, and I didn't, and he became the home-run champion. He said that Jimmy Wynn should be the home-run hitting champion, because of the Astrodome. That made me feel good. It was nice for me to be No. 2, because of all the great home-run hitters at that particular time. …

DL: How did a man your size hit a baseball so far?

JW: I drank a lot of milk.
* * *
Jamie Moyer is 20 years younger than Jimmy Wynn, though you could be forgiven for thinking they once played against each other. Moyer recently had Tommy John surgery, with the hope of returning to the majors in 2012 and pitching at age 49. I made a joke the other day that his fastball might clock in with the same two digits, but truth be told, I'm past the point of doubting Moyer's longevity.  I'd love to see him pitch at 50.
* * *
Baseball-Reference.com is hosting a vote on the expansion committee candidates for the Hall of Fame. Cast your ballot.
The Dodgers would have made the playoffs in 2000 and 2002 if MLB had instituted a second wild-card team sooner, writes David Brown of Big League Stew. The 1997 Dodgers, in theory, would have needed a tiebreaker game with the Mets.