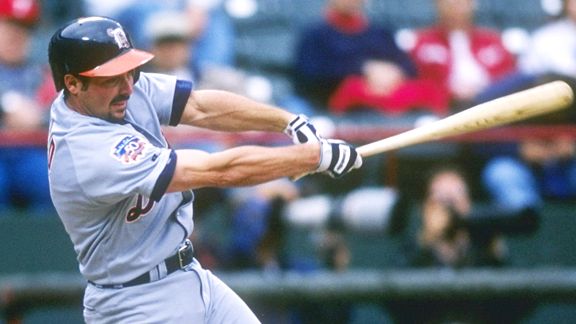 Getty ImagesJody Reed finished his 11-season major-league career with Detroit in 1997.
Jody Reed, famous in Dodger history for his domino role in the Pedro Martinez "Buttercup" trade of 1993, is returning to the organization as manager of the franchise's Arizona League rookie team and Camelback Ranch – Glendale Coordinator of Instruction.
Reed served as the Yankees' minor league defensive coordinator for the past two seasons.  No doubt, come Spring Training, he'll field a question or two revisiting what happened in his contract negotiations following the 1993 season.
Former Dodger (and everywhere) reliever Matt Herges will be Reed's pitching coach.
Lorenzo Bundy, meanwhile, will replace Tim Wallach and manage at Albuquerque. Bundy managed the Dodgers' Triple-A team in Las Vegas from 2007-08.
Here's the full list of assignments:
Field Coordinator: Bruce Hines
Senior Advisor, Player Development: P.J. Carey, Gene Clines, Charlie Hough
Hitting Coordinator: Eric Owens
Pitching Coordinator: Rafael Chaves
Outfield/Baserunning Coordinator: Rodney McCray
Infield Coordinator: Matt Martin
Catching Coordinator: Travis Barbary
Campo Las Palmas Coordinator: Henry Cruz
Field Coordinator, Campo Las Palmas: Antonio Bautista

Triple-A Albuquerque:
Manager: Lorenzo Bundy
Hitting Coach: John Valentin
Pitching Coach: Glenn Dishman

Double-A Chattanooga:
Manager: Carlos Subero
Hitting Coach: Franklin Stubbs
Pitching Coach: Chuck Crim

Single-A Rancho Cucamonga:
Manager: Juan Bustabad
Hitting Coach: Michael Boughton
Pitching Coach: Hector Berrios

Single-A Great Lakes:
Manager: John Shoemaker
Hitting Coach: Lenny Harris
Pitching Coach: Kremlin Martinez

Rookie-advanced Ogden:
Manager: Damon Berryhill
Hitting Coach: Johnny Washington
Pitching Coach: Bill Simas

Rookie-level Arizona League Dodgers:
Manager/Camelback Ranch – Glendale Coordinator of Instruction: Jody Reed
Hitting Coach: Leo Garcia
Pitching Coach: Matt Herges

Rookie-level Dominican Summer League Dodgers:
Manager: Pedro Mega
Hitting Coach: Esteban Lopez
Pitching Coach: Alejandro Pena
Roving Guest Instructor: Ramon Martinez
Catching Coach: Jose D. Hernandez
Assistant Coach: Rafael Ozuna

Camelback Ranch – Glendale:
Camelback Ranch Pitching Coach: Jim Slaton
Coach/Exchange Program Instructor: Daisuke Yamashita