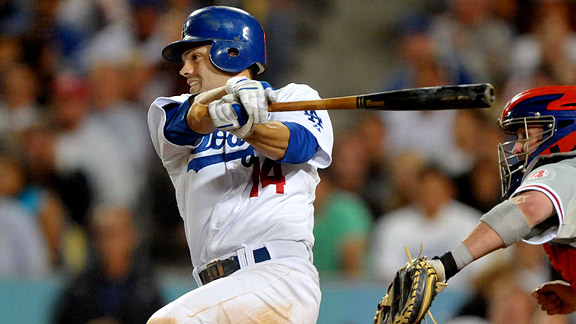 Kirby Lee/Image of Sport/US PresswireIn 2010, Jamey Carroll had an OBP of .375 against lefties and .380 against righties.
Last season, the Dodgers had seven players with an on-base percentage of at least .330 and a minimum of 100 plate appearances. Three of those players (Manny Ramirez, Russell Martin, Blake DeWitt) are gone, a fourth is the oft-injured Rafael Furcal, and a fifth (A.J. Ellis) will be at best a part-timer trying to prove that he wasn't a one-month wonder.
That leaves Andre Ethier and Jamey Carroll. This short post is about Carroll.
Carroll, arguably the Dodgers' third-string second-baseman when 2010 began, ended up becoming an almost shockingly pivotal player for the team, posting a career-high .379 OBP at age 36. Career highs at age 36 scream fluke, but the late-blooming Carroll does have a career OBP of .355 and has reached that level four of the past five years.
That .355 is still better than almost anyone else on the roster can offer. There's Ethier and, depending how much they play, Furcal and Ellis. James Loney's career OBP is in the ballpark at .348. Casey Blake was at .363 in 2009, before falling to .320 last year. Matt Kemp hasn't been at that level since 2007, and Juan Uribe has never come close.
Blake and Uribe, who play Carroll's two primary positions, offer power that Carroll can't touch, but in terms of overall offensive value, Carroll actually had the better 2010, whether you look at Baseball Prospectus' total average (Carroll .283, Blake .267, Uribe .266) or Fangraph's wOBA (Carroll .329, Uribe .322, Blake .317). And then there's this idle thought: He's probably not a worse outfielder than Jay Gibbons would be, though I tend to doubt a playoff team starts a Carroll in left.
What this means for 2011, I don't know. Carroll turns 37 in February. Assuming no other major acquisitions for the Dodger infield, Carroll will probably start the season on the bench, serving as a pinch-hitter, defensive replacement and spot starter until someone gets hurt. But it wouldn't surprise me if Carroll actually was deserving of a starting spot somewhere in that 2011 Dodger lineup, depending at least in part on whether Blake is in a faster decline. In particular, Carroll might be a good No. 2 hitter behind Furcal, helping him set up Ethier, Kemp, Loney, Uribe and the rest.
We'll see how things look in March …
* * *