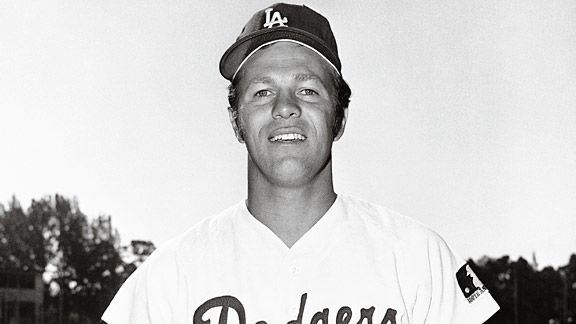 Jim Kerlin/APWes Parker
In 1970, a guy who hit 10 home runs for a team that finished 14 1/2 games out of first place finished fifth in the National League Most Valuable Player race.
It's not the most shocking thing in history, but it did surprise me to see.
Wes Parker batted .319 with 111 RBI and a league-high 47 doubles. The RBI total was impressive, though it only tied him for eighth in the NL (it was also 63 percent higher than his previous career best). In batting average, he was fifth. Parker did have that excellent fielding reputation – he won the fourth of six consecutive Gold Gloves in 1970, a year that, as you know, he also hit for the cycle.
That was enough to earn Parker recognition as the No. 5 player in the league – behind only Johnny Bench, Billy Williams, Tony Perez and Bob Gibson, and ahead of such players as Pete Rose, who batted .316 with 15 homers for the pennant-winning Cincinnati Reds, 1969 MVP Willie McCovey (.289 with 39 homers and 126 RBI), Hank Aaron (.298, 38, 118) and Joe Torre (.325, 21, 100).
It's a little curious, isn't it?