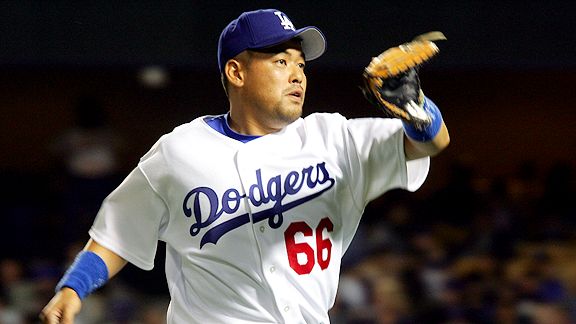 Harry How/Getty ImagesNorihiro Nakamura went 5 for 39 with two walks as a Dodger. Trivia: In his final major-league game, the Dodgers scored 10 runs in the first inning.
This week, I'll have my ninth Spring Training preview at Dodger Thoughts, and the time capsule effect of the previous eight is starting to mesmerize me.  As a warmup, I thought I'd present some artifacts from the past:
2003
Wilson Alvarez, LHP: Dan Evans seems to really want him to succeed as the Omar Daal replacement, even though Darren Dreifort should fill that role. I'm dubious, but in terms of making the roster, he's probably got enough to get spring training hitters out and make the move viable. If the Dodgers are healthy, a 12-man staff isn't necessary, but, you know …
Chin-Feng Chen, 1B/LF: Once their most exciting prospect after batting .316 with 31 home runs, 123 RBI and 31 steals in San Bernardino in 1999, he now seems to have some real holes in his game: declining speed, no defense, strike zone issues. Still has something to prove.
Steve Colyer, LHP: 24 years old, had a 3.45 ERA in 59 relief appearances for AA Jacksonville last year. Struck out 68 in 62 2/3 innings. At 6-foot-4, 205 pounds, Dodgers may be hoping for a lefty Eric Gagne (6-2, 195), but Colyer also walked 40.
2004
Shane Victorino, OF: Had a weird year as a Rule 5 draftee from the Dodgers by the Padres. Now back with Los Angeles, the Hawaiian is still only 23 – but like so many Dodger minor leagues, is a singles hitter without much walks or power. Still more promising at the plate than Romano.
James Loney, 1B: Ballyhooed, but I have this half-irrational fear his career will be like Todd Hollandsworth's. Some power, some plate discipline, but not enough of both?
Russell Martin, 3B: We've come all the way down to the bottom to find a home-grown Dodger prospect who knows what ball four means. The 21-year-old Quebec native has 58 bases on balls (against 55 strikeouts) in less than 500 professional plate appearances. Say "Amen!"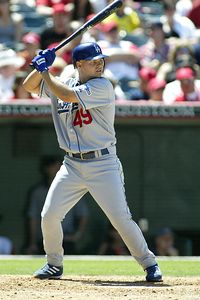 Rob Leiter/MLB Photos via Getty ImagesCody Ross had nine of his 10 career RBI as a Dodger in a three-game stretch at Pittsburgh in April 2006.
2005
Norihiro Nakamura, 3B: He has said he's willing to play in the minor leagues, and an April in Las Vegas might be just the thing to give Nakamura rhythm and confidence. But he'll get a long look in March.
Cody Ross, OF: Has 80 professional home runs at age 24. Injuries marred much of his 2004, and he's never OPSed over .900 in the minors. But he's a Paul DePodesta acquisition and that puts him in the game.
Oscar Robles, IF: Almost 29, he had some nice Mexican League numbers in 2004. Listed at 5-foot-11, 155 pounds, he is that rare player thinner than me.
2006
Andre Ethier, OF: A left-handed hitter, he could challenge Repko for the temporary last outfield slot, but more likely would be first in line if another outfielder stumbles after April 1.
Joel Guzman, IF-OF: The exciting prospect will also eye the major league injury report while discovering his new position, whatever that is. For our part, we'll be watching his plate discipline.
Matt Kemp, OF: A true outfield prospect, it's not impossible that the 21-year-old Kemp could be the first of the 2005 Vero Beach Dodgers to make the bigs.
Takashi Saito, P: This year's Norihiro Nakamura, pitching side. A 36-year-old (on Valentine's Day) pitcher with a 3.82 ERA in Japan last season doesn't excite.
2007
Andy LaRoche, 3B: With Betemit perhaps begging for a platoon partner, the promising LaRoche has an outstanding shot at making his major league debut ASAP. I'm not impressed that people say LaRoche has fully recovered from his labrum surgery – we've been led astray before – but he can still be considered a strong candidate to make the team.
Jonathan Meloan, P: A fifth-round draft pick in 2005, Meloan is rocketing upward. In his 91-inning minor-league career, he is averaging 14.3 strikeouts per nine innings against exactly nine baserunners. Though he has only 10 2/3 innings of experience above A ball, fans in the know are salivating at the prospect of having two Big Bad Jons in the bullpen.
Scott Elbert, P: Sandwiched between Billingsley and Clayton Kershaw in the "Let's get excited" line of starting pitchers, Elbert has struck out 346 in 310 2/3 minor-league innings. Sure to start the season in the minors, Elbert very possibly will finish it there to keep his service clock at zero. That's not to say he couldn't outpitch some guys that will make the team, but at the same time, with five walks per nine innings in the minors, it's not as if he has nothing to work on. He turns 22 in August.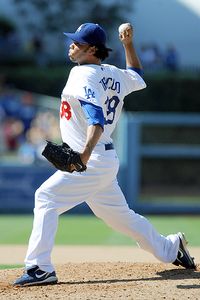 Lisa Blumenfeld/Getty ImagesRamon Troncoso
2008
Clayton Kershaw, LHP: Never heard of him. Must be a scrub. But what the heck, if the Dodgers feel like he deserves a chance, who am I to stop them?
Ramon Troncoso, RHP: Troncoso, 24, went from Inland Empire to Jacksonvile in 2007 and pitched well in both places. In fact, the reliever blew the Cal League away, allowing only three earned runs in 30 innings, before settling in nicely with a 3.12 ERA for the Suns. The 2007s of Meloan and Hull show how hard it can be to get a callup, but keep an eye on Troncoso nevertheless.
Greg Miller, LHP: There could hardly be a better story this spring than Miller making the team. A Clayton Kershaw before there was a Clayton Kershaw, Miller reached AA at age 18 in 2003, striking out 40 and walking seven in 27 innings. But first his health and then his control betrayed him, and four years later, he was struggling. He walked 89 in 76 2/3 innings in 2007. But he also struck out 97, and the Dodgers still like him. If he can show any control in March, he immediately puts himself back on the fast track.
2009
Shawn Estes, LHP: When I think of Estes, I think of a game show in which the category is "Pitchers I've been eager for the Dodgers to face in the 21st century." Estes, who turns 36 this month, hasn't had a better-than-average ERA since 2000, and while he hasn't been awful, you have to wonder what the point is — especially considering he's notched only 49 2/3 major-league innings and 23 strikeouts in the last two years. But hey, it wouldn't be Spring Training without an aging pitcher determined to prove us wrong.
Ronald Belisario, RHP: According to the blog Bucs Dugout, Belisario is "the pitcher formerly known as 'No, nobody knows why he's on the Pirates' 40-man.' " The 26-year-old averaged four walks and 5.5 strikeouts per nine innings in AA ball last year.
Juan Castro, IF: Always a defensive specialist, the 36-year-old Castro has completely stopped hitting. His on-base percentage over the last two seasons is .235, his slugging percentage .256. What's to love? By reputation, at least, he is a much better fielder than DeWitt, Loretta or Blake, and the Dodgers could see value in that as he competes for a roster spot with a host of shallow-hitting glovers.
2010
Carlos Monasterios, P: Last year, we were all caught off guard by Ronald Belisario making the big-league squad and excelling despite having virtually no resume to speak of. There's nothing to Monasterios' stat line that suggests he can be a big-leaguer in 2010 – he wasn't even that great in winter ball – but I'm suspecting that the Dodgers didn't acquire him (and Armando Zerpa) on Rule 5 day without a good reason. As with Stults, the Dodgers can't send Monasterios to the minors. So I can see them stashing him in the back of the bullpen and testing him out before discarding him.
Kenley Jansen, P: Converted from catcher last year, the 22-year-old struck out a whopping 19 batters in 11 2/3 innings in A ball but also allowed 25 baserunners. So his target date is 2011 at the earliest.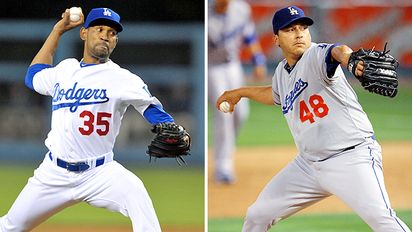 US Presswire/Getty ImagessOrtiz x 2
Ramon Ortiz, P: He hasn't been in the majors since 2007 and hasn't had an ERA below 5.00 since his final season with the Angels in 2004. So despite a 3.05 ERA in the minors last year, I'm not buying what Ortiz, 37 in March, is selling.
Russ Ortiz, P: He hasn't been in the majors since 2009 and hasn't had an ERA below 5.00 since his final season with the Braves in 2004. So despite a 4.06 ERA in the minors last year, I'm not buying what Ortiz, 36 in June, is selling.