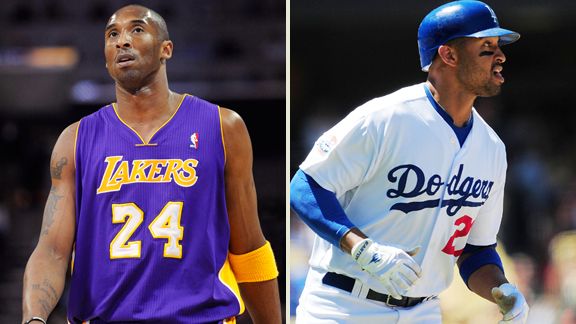 US PresswireThe Lakers' local TV future is set until my 65th birthday. The Dodgers' TV future … not so much.
Over at Variety, I have a story on Time Warner Cable's landmark 20-year deal to create English- and Spanish-language Lakers TV networks. (And since this is the first question everyone has asked me today – no, this doesn't mean only TWC subscribers will get to see the Lakers. It does mean that your satellite or cable provider, if it's not TWC, will have to pay for the rights to air the networks.)
It's too soon to know what this means for the Dodgers' future TV plans, though not too soon to speculate.
First, an excerpt from the story:
In a major shift on the Los Angeles televised sports landscape, Time Warner Cable has acquired rights to distribute local broadcasts of Los Angeles Lakers games in a 20-year deal beginning with the 2012-13 NBA season.

Time Warner Cable will launch English- and Spanish-language sports networks showcasing the franchise, taking away the rights to live game broadcasts from current broadcasters KCAL Channel 9 and Fox Sports Net.

TWC is not keeping the channels exclusive to its own subscribers. Rather, it will make them available to all satellite, cable and telco distributors in the Lakers' territory, which includes all of Southern California, Nevada and Hawaii.

National broadcast contracts on ABC/ESPN and TNT are unaffected, but 2011-12 will be the last season of local over-the-air broadcasts of the Lakers in Los Angeles.

"We are aiming for full and complete distribution with all distributors," Time Warner Cable exec veep and chief programming officer Melinda Witmer told Variety. …

Dave McMenamin of ESPNLos Angeles.com is also covering the news, as are the Times' Joe Flint and Bill Shaikin. Flint has details on what the cost could be per subscriber, while Shaikin's piece most directly addresses the impact on the Dodgers, whose TV deal with Fox expires in 2013:
… Beyond then, according to court documents, Frank McCourt had intended to launch cable channels dubbed "DTV: Dodger Television" in English and Spanish, enabling the team to more than triple its annual television revenue if projections held true. …

Dodgers spokesman Josh Rawitch declined to comment on how the Lakers' announcement might impact the Dodgers' television plans. However, two sports industry consultants said what the Dodgers might have lost in financial upside could be somewhat mitigated with the newfound leverage of more sports channels in town."It opens up a heck of a lot more what-ifs," said Andy Dolich, a former top executive with the Oakland Athletics, San Francisco 49ers and Memphis Grizzlies.

McCourt still could pursue DTV, although local cable and satellite operators might balk at adding a Dodgers-themed channel, since subscribers might balk at paying for DTV, the Lakers channels, Fox Sports West and Fox's Prime Ticket.

The Lakers, however, just provided McCourt with additional leverage. Until Monday, the Dodgers could say to Fox, "If you don't offer us enough money to renew our deal, we'll start our own channel." Now the Dodgers can say to Fox, "If you don't offer us enough, we can start our own channel or move our games to the Lakers channel." …

However, since the loss of the Lakers and Dodgers would deprive Fox of arguably its two most valuable sports properties, Ganis said Fox might make the Dodgers an enormously lucrative contract offer. …
Fox said the following in a statement in response to the upcoming end to nearly three decades of Laker home broadcasts on Fox Sports Net: ""Fox made an offer to the Lakers that would have paid them one of the highest local TV rights fees in professional sports. We did not believe that going higher was in the best interest of our business or pay TV customers in Los Angeles, who will bear the cost of this deal for years to come."
* * *
Roberto Baly of Vin Scully Is My Homeboy has not one but two photo-filled posts on Day 1 of the Dodgers Caravan, which featured a team-infused cleanup effort along the L.A. River.
Mike Petriello of Mike Scioscia's Tragic Illness offers Dodger fans "Six Reasons for Optimism in 2011."
The 1932 Detroit Tigers spent part of their Spring Training at Stanford's brand-new Sunken Diamond, and Scott Allen of Rule of Tree has a post about it.