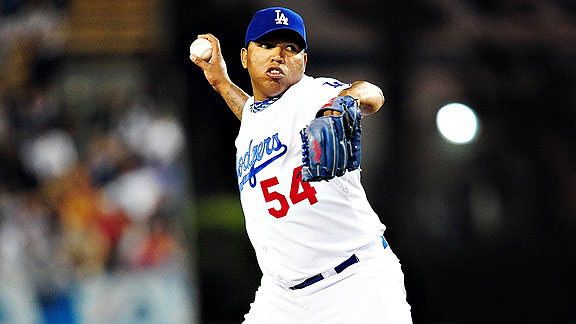 Gary A. Vasquez/US PresswireRonald Belisario, International Man of Mystery
Here we go – our journey to the 2011 season begins with this single step. Here's how the Dodger roster shakes out at the start of Spring Training. (Names below are either on the 40-man roster or have a non-roster invitation to major-league camp.)
Locks (20)
Definition of a lock: Only the disabled list or a trade can stop these guys from making the Opening Day roster. (We'll discuss them more in an upcoming post.)
Starting pitchers (5): Clayton Kershaw, Chad Billingsley, Hiroki Kuroda, Ted Lilly, Jon Garland
Relief pitchers (4): Jonathan Broxton, Hong-Chih Kuo, Vicente Padilla, Matt Guerrier
Catchers (1): Rod Barajas
Infielders (5): James Loney, Juan Uribe, Rafael Furcal, Casey Blake, Jamey Carroll
Outfielders (5): Andre Ethier, Matt Kemp, Jay Gibbons, Tony Gwynn Jr., Marcus Thames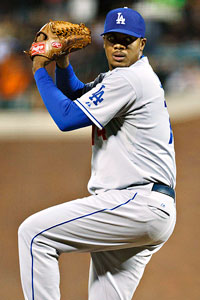 Jason O. Watson/US Presswire
Kenley Jansen
Most Likely to Succeed (5)
Kenley Jansen, RHP: I fully expect Jansen to be on the Opening Day roster after he allowed two runs in 27 innings while striking out 41 for the Dodgers in his surprising debut last season, but the bullpen does face a roster crunch of relievers who are out of options, while Jansen has 'em to spare. If for some reason he blows up in Spring Training, he would be a candidate for more seasoning.
Blake Hawksworth, RHP: Here's the opposite scenario of Jansen – he's coming off a shaky 2010 (4.98 ERA, 61 strikeouts in 90 innings), but he came in the Ryan Theriot deal with no minor-league options remaining. That should be enough for a spot, but there is a scenario where others could force him off the team.
Ronald Belisario, RHP: It's not an original thought to say that just arriving at Camelback on time will be half the battle, but it's probably true. Coming off his inconsistent 2010, Belisario has something to prove, but any sign of his 2009 form and a half-decent approach off the field should be enough.
Dioner Navarro, C: Of all of Ned Colletti's offseason moves, offering a million bucks to the guy he once traded away and had 24 hits last season might have been the most head-scratching. If Navarro looks terrible in March, the Dodgers could cut him loose without paying his full salary. But the expectation here is he does enough with his second chance to send A.J. Ellis to Albuquerque with a rock in his Halloween bag.
Aaron Miles, IF: The 25th spot on the roster is a true spin of the wheel. Logically, it should go to an infielder, but there you have candidates including Miles, Juan Castro, Ivan De Jesus Jr. and Justin Sellers. Or the Dodgers could decide to go with five infielders in order to buy more time with one of their outfielders, be it Xavier Paul, Jamie Hoffmann or Trent Oeltjen. Or they want to keep an extra lefty in the bullpen without sacrificing Jansen, Hawksworth or Belisario.  Without much conviction, I'm giving a small edge to Miles. My guess is they feel the need for a sixth infielder, and Castro is so far over the hill I think Mattingly might notice. Sellers and De Jesus can go to the minors. So can the 34-year-old Miles, but he has the major-league imprimatur (.281 batting average/.627 OPS for St. Louis in 2010), plus he's expendable if they decide they want to cut him.
Next in Line (5)
Ron Mahay, LHP: Mahay will probably wear a Dodger uniform this season – it's only a matter of when. It could be March 31, if just one of the seven relievers ahead of him is traded, has to start the season on the disabled list or is generally deemed unworthy. But even at age 39, his relative skill at throwing from the left (.520 OPS allowed against lefty batters) just seems too right.
A.J. Ellis, C: The Dodgers probably like Ellis as a person – they just have a roundabout way of showing it. To be fair, you have to respect the Navarro signing in how it shows the Dodgers didn't buy into Ellis' red-hot final month (15 for 36 with eight walks) as the sign of something permanent. On the other hand, Ellis was better than Navarro last year, so you have to feel a little for the longtime minor-leaguer having to wait things out again.
Justin Sellers, IF: Sellers was my original first choice for Miles' spot, based on his solid showing for Albuquerque in 2010 (.867 OPS, 14 home runs), but then I figured the Dodgers would lean toward the veteran for the bench. He's not considered a serious prospect, but he's no old-timer – he turned 25 this month. Look for him to make his major-league debut this year.
Ramon Troncoso, RHP: Will Troncoso complete his final journey to Cory Wade-Land?  An indispensable member of the pen less than a year ago – by May 1, he had pitched in a rather stunning 16 of the Dodgers' first 24 games with a .601 OPS allowed – Troncoso was rocky the rest of the way, ultimately splitting time between the majors and the minors. His strikeout rate declined from 9.0 per nine innings in 2008 to 5.7 last year, but if his arm rallies in 2011, he could convince the Dodgers to, say, part ways with Belisario. And certainly, he could be the first righty reliever resolutely recalled.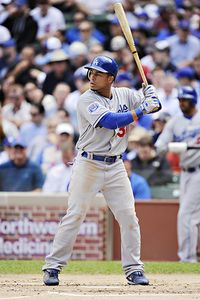 Ron Vesely/Getty Images
Xavier Paul
Xavier Paul, OF: The leading candidate for the Delwyn Young Pat on the Butt – Here's Your Ticket to a Central Division Team Award for Out-of-Option Players, Paul missed his best chance to establish himself as a Dodger when he OPSed .591 as part of the Committee to Replace Manny Ramirez. In theory, there's no reason why Paul couldn't emerge triumphant in the Hit and Play Defense in the Same Game Outfielder Challenge, but after all his health and hitting struggles, it would help if he could avoid his annual escapades with the Murphy's Law Musketeers.
See You by September? (17)
Scott Elbert, LHP: His personal problems are, until we hear otherwise, last year's story – as is confusion about his role. The Dodgers view him purely as a reliever and are asking him just to get three outs, maybe six, and call it a night. If he can find a clear head and figure out his control, a multiyear career with the Dodgers may yet be his. But in the short term, Mahay's presence will force Elbert to dazzle to make the initial 25.
Juan Castro, IF: You can't count Castro out of the Opening Day discussion, but his shaky offensive resume has dissolved completely. If he's willing to go to the minors at age 38, there could certainly be a moment that would find the Dodgers dialing his number.
Ivan DeJesus Jr., IF: Ned Colletti specifically said that DeJesus is a candidate to be the backup infielder, which probably reflects both his ascension to the top of the farm system and a lack of concern about him getting everyday playing time. But is there a Catch 22 at play here? The better he plays in Spring Training, the harder it will be to see him ride the bench. The logic bet is that DeJesus is in the minors, earning a callup if and when a starting infielder goes on the disabled list. The longshot is DeJesus winning the second-base job outright, pushing Uribe to third base and Blake into a utility role.
Mike MacDougal, RHP: Last year was brutal at the major-league level for the 2003 All-Star, but the year before wasn't. That speaks to the inconsistency of his career (not to mention his profession). He's got the kind of name value that would allow him another chance.
Travis Schlichting, RHP: The 26-year-old's 2010 major-league campaign began with that heroic four-inning relief effort in the 1-0, 14-inning victory over Arizona. Schlichting kept his ERA in healthy form the rest of his time in Los Angeles, though he could be careless with inherited runners. In addition, lingering health concerns remain. Buried behind the right-handed relief corps, Schlichting nevertheless should be a midseason candidate.
John Ely, RHP: Elymania II? Ely could be the first starting pitcher called up from the minors in 2011, after Padilla is pressed into service from the bullpen (if not before). Ely will want to show that he's learned something from his second-half struggles in 2010 — he had an 8.00 ERA in 54 innings after June 1.
Jamie Hoffmann, OF: Lost in the Rule 5 draft a year ago and then found, Hoffmann led Albuquerque with 169 hits and also comes with a better defensive reputation than any third-outfielder candidate besides Gwynn. But the signing of Thames all but killed Hoffmann's chances of making the premiere roster without fate intervening.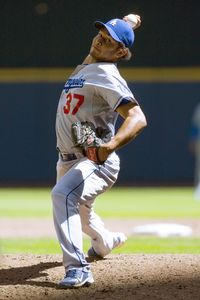 Jeff Hanisch/US Presswire
Carlos Monasterios
Carlos Monasterios, RHP: Monasterios is free from the Rule 5 shackles, which has everyone assuming he'll spend the bulk of the year in New Mexico. Turning 25 in March, he actually brings back better relief numbers from 2010 than several of the guys ahead of him (2.06 ERA, .620 OPS allowed), so maybe he'll surprise, but he has a lot of men to leapfrog.
Jon Link, RHP: Let's see, Link is the … 18th pitcher we've listed so far. How long will it take the Dodgers to get to pitcher No. 18?  Should we place the over-under in June?
Trayvon Robinson, OF: We talked last month about Robinson's accelerating development and the chance he could go from Double-A in 2010 to the majors by the end of 2011. The Dodgers would rather postpone that last step until '12, but I'm finding it hard to believe that things will go so well for the veterans or so poorly for Robinson that he won't get his first taste of the bigs in the months ahead.
Jerry Sands, OF-1B: The inaugural entry in the "How close is he?" series, Sands will be right on Robinson's tail. He could become another left field alternative by midseason, or challenge Loney at first base if the incumbent continues to falter. We'll be keeping an eye out for any midseason position switches.
Trent Oeltjen, OF: At some point, the Dodgers might well face a choice between calling up a Robinson/Sands prospect, or short-terming it with Oeltjen, who played in 14 games with the big club in September after OPSing .979 in 226 plate appearances with Albuquerque. I've listed Oeltjen below Robinson and Sands, but he should very possibly be above them.
Eugenio Velez, OF: With a lifetime .300 on-base percentage and .388 slugging percentage as his 29th birthday approaches, there's not much reason to think the ex-Giant would make a dent at the major-league level, but far stranger things have happened.
Hector Gimenez, C: Ever since the Dodgers signed Gimenez in November, I've mentally dismissed him as irrelevant, but when you look at his ledger (peaking with 16 homers, .384 on-base percentage, .533 slugging percentage in 392 plate appearances at Double-A), there's no reason to think the 28-year-old couldn't surpass Ellis as the No. 3 catcher – or, if Navarro flames out, No. 2. Baseball America once rated Gimenez the best defensive catcher in the Houston Astros' farm system, though that was six years ago. As of this writing, 180 people like Gimenez's Facebook page.
Russ Mitchell, 3B: When he's wasn't moonlighting for CBS News, Mitchell was putting together one of the more unusual Septembers for a Dodger rookie: 43 at-bats, four singles, two homers. He was second at Albuquerque in home runs (23) and plays a position in which the Dodgers lack depth, so that keep him alive for another cup of coffee this year – he's the first available third baseman after Blake, Uribe and Carroll (well, except for Miles, Sellers or Castro).
Dee Gordon, SS: The Dodger organization's most prolific Twitterer – closing in on No. 2,000 –  has been talked to and talked about this winter. Though many say his ceiling is higher than Robinson or Sands – or because of it – the Dodgers might be inclined to let him percolate the longest. With DeJesus and other transients available to fill in as middle infielders, I'm thinking September 1 is the absolute earliest that Gordon arrives, as he works on his fundamentals offensively and defensively. He turns 23 in April.
John Lindsey, 1B: Lindsey's big hurdle this offseason was sticking on the 40-man roster amid the Dodgers' quantity of acquisitions. He's close to making it through the winter unscathed, though the fact remains that there's no spot for him on the Opening Day roster. If he doesn't head off to Japan, Eric Stults-style, he could return to Albuquerque and wait for another opportunity to wear those major-league togs again.
Check Back in a Year or Two (5)
Javy Guerra, RHP: The one-time blogger Guerra, who struck out 27 in 27 innings for Chattanooga last year, would have been a more likely contender for a 2011 callup if a) he didn't also walk 22 and b) he wasn't slowed down by offseason surgery to repair a gash from a kitchen accident.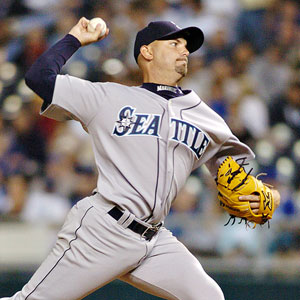 John Rieger/US Presswire
Jon Huber
Jon Huber, RHP: In May, almost exactly 10 years after he was drafted, Huber was released by the Braves organization and landed with the Dodgers. He then pitched his best ball in quite some time for Double-A Chattanooga: 2.23 ERA, 48 strikeouts and only 47 baserunners in 44 1/3 innings. However, the 29-year-old, whose reached the majors in 2006-07, has a non-roster invite to Spring Training and a long line of relievers to navigate before he would get his contract purchased.
Luis Vasquez, RHP: He was added to the 40-man roster in November, after striking out 39 in 40 1/3 innings against 54 baserunners with Single-A Great Lakes.
Rubby De La Rosa, RHP: The Dodgers' minor-league pitcher of the year shot onto the radar with a 2.37 combined ERA at Single- and Double-A, but with only 28 professional starts in his career and never more in a season than last year's 13, he needs to show he can do it for longer stretches.
Wilkin De La Rosa, LHP: In his first three seasons in the Yankee farm system, this De La Rosa posted ERAs of 2.62, 2.11 and 3.17 with more than a strikeout per inning. But after a 5.33 ERA at Double-A Trenton in 2010, the Yankees designated him for assignment, and the Dodgers grabbed him in December. He's a lefty, so there's always a possibility of something happening sometime.
Fodder (7)
Roman Colon, RHP: Neither a Roman column nor a roamin' colon (Note: I've been asked what a roamin' colon is, and I don't have a good answer), the 31-year-old showed some promise in his younger days but has a 5.12 ERA in 179 1/3 career innings since 2004, with 117 strikeouts against 272 baserunners.  Last year brought a detour to the Kia Tigers in Korea.
Oscar Villarreal, RHP:  Last seen in the majors with a 5.02 ERA in 37 2/3 innings for Houston in 2008, Villareal had Tommy John surgery in 2009 before beginning a comeback in 2010 with the Phillies' Triple-A team (4.40 ERA, 42 strikeouts in 57 1/3 innings. He had an unusual debut in the majors, winning 10 games in relief before turning 22 in 2003.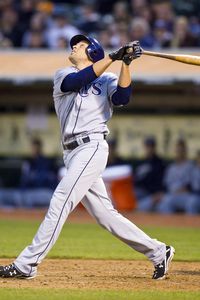 Jason O. Watson/US Presswire
Gabe Kapler
Gabe Kapler, OF: The unretired manager's .578 OPS with Tampa Bay last year doesn't hint at much of a remaining major-league career, hometown ties or not.
Tim Redding, RHP: A year or two ago, Redding might have contended for shot as the No. 5 starter, but unless things go very wrong with the deepened Dodger pitching staff, the 33-year-old won't see his way to Los Angeles. His last major-league action came in 2009, with a 5.10 ERA in 120 innings for the Mets. Last year, he had a 2.46 ERA in 84 innings for the Yankees' Triple-A farm team, but his next stop wasn't the Bronx but rather Korea.
Dana Eveland, LHP: The 28-year-old has slung a 6.96 ERA the past two seasons with 204 baserunners allowed in 98 1/3 innings against 46 strikeouts. Last year, he sucked Toronto in by allowing four earned runs in his first three starts, only to finish the year back in the high sixes. In short, like many professionals, he's capable of a solid outing every now and then, but it's a roulette wheel you don't want to spin. If you ever wanted to read about Dana Eveland and Jack Taschner in the same paragraph, here you go.
JD Closser, C: Batted .319 in 124 plate appearances as a rookie in 2004, but he hit .213 in two seasons after that and hasn't been seen in the majors since. Now 31, for two years he's been in the Dodger organization, but OPSes of .761 and .671 in Albuquerque offer little promise.
Damaso Espino, C: Eleven seasons into his pro career, Espino hasn't progressed past Triple-A, and a conversion from the infield to catcher hasn't helped. Last year, he had an OPS in the low .600s for Cleveland's Double-A and Triple-A teams – leaving it unclear, given the presence of Ellis, Gimenez and Closser where he even fits in as a minor-league backup for the Dodgers.