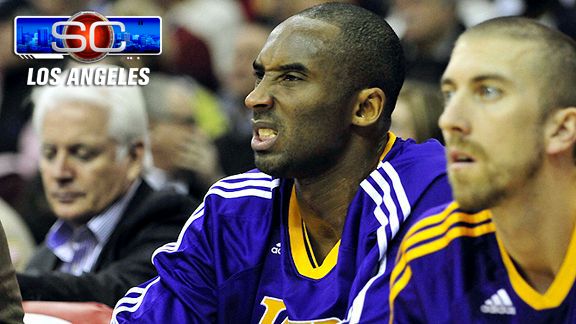 Jason Miller/US PresswireMy reaction, as it would have been seen on SportsCenter.
Here's a story …
Making our way through the rain, my 6-year-old and I arrived tonight at his 6:15 p.m. basketball practice a couple of minutes early. The gym, which may have been coated with a Wetpour Surface, was almost empty, so he had a chance to take some shots. They were all really short, barely getting airborne. That wouldn't have been unusual a year ago, but he has shown this year he can make a basket on occasion.
I wanted to get him to bring his arm back and cock his wrist a little bit more. He really seemed to be short-arming the ball. Now, the boy has made it pretty clear that he doesn't like to get athletic advice from me hardly at all, so I've hardly said a word to him this season, leaving it to his capable and easygoing coach. But all I wanted to do was give him this small guidance.
He was having nothing of it. I reminded him a) how little I try to force my hoops instruction on him and b) he is supposed to listen to me per the father-son paperwork we filed with … well, no, there isn't any such paperwork, but there should be.
Nothing. He was doing everything he could to avoid hearing me. He tried to take another shot, and out of frustration, I swatted it. Mean old dad. But a dad who, for crying out loud, would just like to get to be a dad at one of these moments.
The couple of minutes passed, and his coach called the boys in to start practice. (A small group to this point – only three had made it on time through the rain.)
I sat down on one of the folding chairs on the sideline. I did not hide my displeasure. I wanted him to see my frown. I almost never do this at his sports practices, but I wanted to make my point.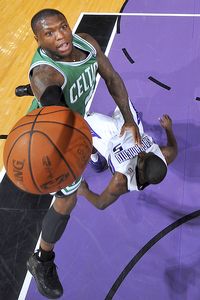 Rocky Widner/NBAE/Getty Images
In your face …
Without even half a team, the coach started the boys off on a layup drill, or something close to that. My boy dribbled up, shot the ball … up, up, and into the basket.
He looked at me with an almost-but-not-completely sheepish smile. I didn't alter my frown an inch.
The other two boys shot, and then it was back to mine. He dribbled up, shot the ball – in.
He looked over, smiling unabashedly. I let my lips turn ever so slightly up.
Next turn … he shoots, it's in. He smiles big. I lean back, sigh, and smile unsurely, not completely positive I should let him off the hook but finding it very hard not to.
Fourth shot. Four in a row? Oh freaking yes. He looks over at me and is smiling so big, his eyes are aglow.
I'm smiling just as big. He's melted me completely. In the car ride home, he tells me he's the best basketball player in the world.