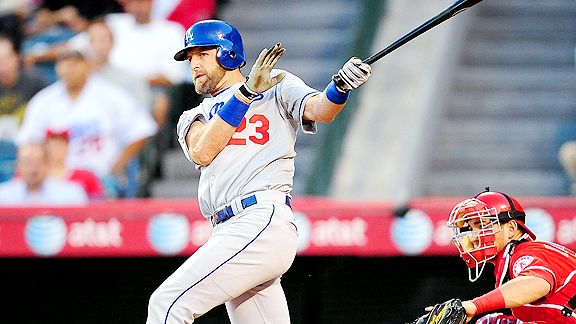 Gary A. Vasquez/US PresswireCasey Blake
One of the many mantras of the 2011 preseason has been the Dodgers' determination to get more rest this year for Casey Blake, who turned 37 in August.
That made me curious as to whether Blake (whom Tony Jackson wrote about Thursday for ESPNLosAngeles.com) actually performed better when rested last year. And the short answer is, he didn't.
I went through the 2010 game logs, and here's how Blake performed.
Total: 146 games, 571 plate appearances, .320 OBP, .407 slugging percentage, .727 OPS.
No days off: 110 games, 425 plate appearances, .332 OBP, .397 slugging, .729 OPS.
One day off: 22 games, 91 plate appearances, .252 OBP, .342 slugging, .594 OPS
Two or more days off: 11 games, 47 plate appearances, .319 OBP, .410 slugging, .729 OPS
One or more day off: 33 games, 138 plate appearances, .275 OBP, .364 slugging, .639 OPS.
(The plate appearances don't quite match up to his season total, because I left sacrifices out of the equation. Also keep in mind there were some games Blake played in without batting.)
First of all, I'm not going to pretend that a .727 OPS is what the Dodgers want out of their third baseman. But it's hard to say that rest made it any better.
Given that Blake played so many games without no rest, there's still the question of whether he would have been better down the stretch had he rested more early. Here's his OPS by month: .833, .827, .692, .556, .812, .634. Did he burn out at mid-summer, then rally in August, then burn out again?  Or is it just a case of luck as much as anything? (Blake's July batting average on balls in play was .207, August was .338.)
This data doesn't take into account matchups or game conditions, and it's certainly susceptible to small sample size issues. But at a minimum, it should make people think twice about how much days off actually helped Blake. Not that I'm suggesting that he play 162 games, but it's fairly easy to posit a theory that frequent play keeps Blake's batting eye honed in. Or, that rest just isn't that much of an issue, and the Dodgers should just shrug their shoulders and play him when they have no better option.
How often will Juan Uribe at third base and someone like Jamey Carroll (.380 OBP vs. righties last year) at second base be a better combination? You tell me.