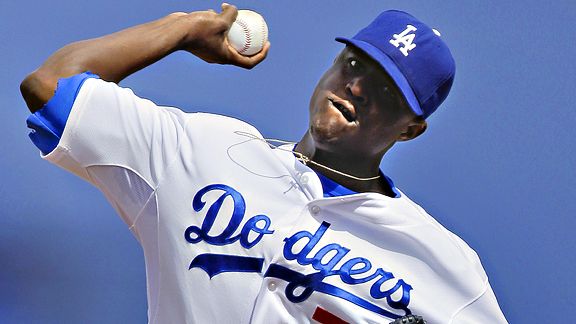 Julie Jacobson/APRubby De La Rosa got the start against the Cubs today.
Highlights:
Rubby De La Rosa performed well in his two innings against the Cubs, retiring Kosuke Fukudome, Tyler Colvin, Alfonso Soriano, Blake DeWitt, Reed Johnson, Marquez Smith (who reached on an error) and Koyie Hill. The only baserunner he allowed was a Starlin Castro single.
Carlos Monasterios followed with two shutout innings.
Josh Lindblom pitched out of a ninth-inning jam with the game tied, 3-3.
Rafael Furcal had two hits and an RBI.
Hector Gimenez homered off the Cubs' Chris Carpenter, who is 10 years younger than the Cardinals' Chris Carpenter. Jerry Sands also doubled against Carpenter.
Justin Sellers had an RBI double against the White Sox. Dioner Navarro also had a double.
Hiroki Kuroda became the first Dodger pitcher of 2011 to complete six innings, finishing with shutout ball over the final two frames.
Lowlights:
Kuroda gave up four runs in his first four innings, and struck out only one batter in his outing.
Sellers made his fifth error of exhibition play this year, leading to an unearned run.
Three hits (but four walks) for the Dodgers against the White Sox. Two of those hits came against Will Ohman.
Matt Kemp struck out with the bases loaded and two out in the top of the ninth against the Cubs' Jeff Stevens.
Sidelights:
Casey Blake's injury is more toward his ribs than his lower back, reports Tony Jackson of ESPNLosAngeles.com.


… "All I'm doing is really icing it," he said. "I was pretty sore last night, and I had some trouble sleeping. … I guess I don't know enough about it to know whether it's serious or not. I know I am pretty sore right now, but with treatment, that soreness can go away pretty soon. I think they were pretty relieved that it's where it is, [because] that can go away in a day or two rather than if it were a pulled muscle or something like that. But we don't know exactly what it is."

Blake left the game after laying down a sacrifice bunt in the top of the first inning. He ran hard up the first-base line and was called out on a close play. It was when he then turned to return to the dugout that he felt something in his back. …

Jon Huber has been sent to minor-league camp.