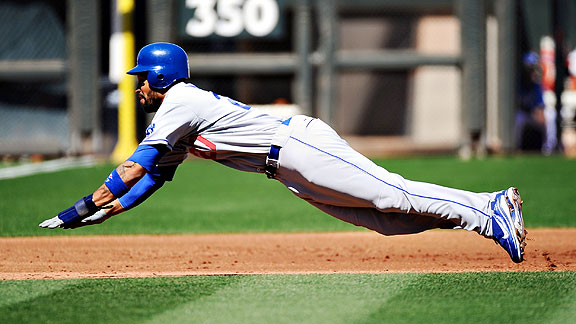 Kevork Djansezian/Getty ImagesFinally, Matt Kemp masters the art of flying. All he had to do was listen to his coaches.
Casey Blake's back tightness, though not considered major at this time, underscores the fact that you can't keep older, injury-prone players like Blake and Rafael Furcal healthy just by keeping them rested. Blake has not been overexerting himself by any definition. These guys are just going to get hurt no matter what they do, and I see an argument once the season starts for not worrying about rest and getting all the production you can out of them until that next injury comes.
In any case, Tony Jackson has a piece at ESPNLosAngeles.com noting how much Juan Uribe will probably play at shortstop and third base this year.
Highlights:
Tony Gwynn Jr. went 3 for 3 against the Giants and stole his sixth base in as many tries.
Andre Ethier went 2 for 4 with a bases-loaded triple.
Trent Oeltjen went 2 for 2  vs. the Royals and hit a three-run homer off Denny Duffy.
Juan Uribe went 2 for 3 with a double.
Travis Schlichting, Jon Huber and prospect Allen Webster had shutout relief performances.
Trayvon Robinson tripled of Guillermo Mota.
The Dodger defense was charged with no errors in either game.
Lowlights:
Ted Lilly got blasted, ultimately getting charged with six runs in 2 2/3 innings against the Royals. "I wasn't locating," Lilly told The Associated Press. I missed quite a bit down in the dirt with my fastball. They just weren't cleanly thrown balls."
Ron Mahay is doing all he can to give away his roster spot, allowing his third home run in four short appearances and surrendering four hits, four runs and a walk in two-thirds of an inning.
Ramon Troncoso also got knocked around: five outs, six baserunners, four runs.
Tim Redding surrendered four runs in four innings against the Giants.
Roman Colon gave up four San Francisco singles in the bottom of the ninth as the Dodgers gave up a 7-6 lead.
Sidelights:
Clayton Kershaw tells Ken Gurnick of MLB.com not to worry about the split fingernail on the middle finger of his pitching hand because he gets them "all the time." Gee, now I feel much better.
In the same notebook, Gurnick notes that Hong-Chih Kuo is feeling more confident about his developing changeup that could go with his fastball and slider.
John Ely, we're now told, resisted listening to Dodger coaches who tried to help him during his second-half collapse last season, writes Jim Peltz of the Times.
Major League Baseball's new official historian, John Thorn, writes an overview in the New York Times on the current state of information of the origins of baseball.
* * *
White Sox at Dodgers, 1:05 p.m.