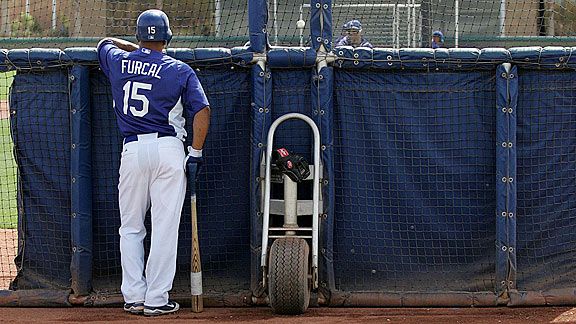 Jake Roth/US PresswireRafael Furcal stands before the world's largest unicycle.
After a 4-2 lead turned into a 6-4 deficit, the Dodgers came back to end their eight-game losing streak.
Highlights:
Ivan DeJesus, Jr. singled twice and scored two runs.
Juan Uribe drove in three runs with a bases-loaded walk and a two-run double.
Another hit for Trent Oeltjen, who is batting .467. His leadoff single in the eighth keyed a three-run Dodger rally.
Xavier Paul, Gabe Kapler and Eugenio Velez added singles in the eighth. Kapler took second on a wild pitch and scored the go-ahead run thanks to Velez.
Hong-Chih Kuo struck out two in a scoreless inning.
Blake Hawksworth and Ron Mahay pitched the final two shutout innings to seal the victory.
Lowlights:
James Loney and Rod Barajas each left the bases loaded in the first inning and went 0 for 3.
Uribe muffed a ball at third base for an error, leading to an unearned run off Clayton Kershaw.
Kershaw allowed 10 singles and a double, leading to five earned runs in 5 2/3 innings that marred his 0.00 ERA. He struck out three and walked none.
Sidelights: