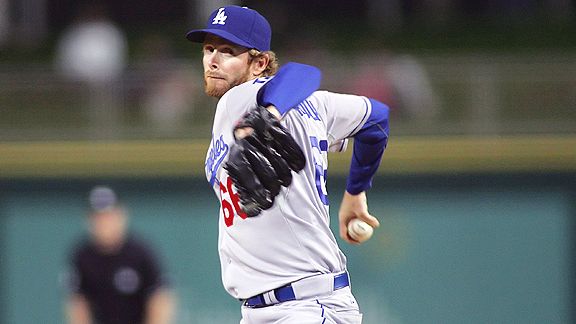 Jake Roth/US PresswireDespite a 7.23 ERA last year with St. Louis, Mike MacDougal has taken advantage of Dodger injuries to carve out a chance at a roster spot.
On the last off day before the start of the season, this seems like a good time to check in on how the Dodger 25-man Opening Day roster is shaping up.
On track (18):
Starting pitchers (4): Clayton Kershaw, Chad Billingsley, Hiroki Kuroda, Ted Lilly
Relief pitchers (5): Jonathan Broxton, Hong-Chih Kuo, Matt Guerrier, Blake Hawksworth, Kenley Jansen
Catchers (1): Rod Barajas
Infielders (4): James Loney, Juan Uribe, Rafael Furcal, Jamey Carroll
Outfielders (4): Andre Ethier, Matt Kemp, Tony Gwynn Jr., Marcus Thames
Likely (3):
1) Casey Blake, 3B: The latest news on Blake sounds about as good as one might have expected – inflammation with no evidence of a muscle strain.  So while anything could happen, we won't assume that he'll be on the disabled list March 31.
2) Mike MacDougal, RP: A 0.00 spring ERA, veteran's moxie and all the positive things people are saying about him in the press make MacDougal this year's most likely prize off the scrap heap.
3) Dioner Navarro, C: A.J. Ellis can still be optioned to the minors, so we'll put him aside. Though Hector Gimenez presents an alternative, Navarro seems safe.
Roster spot battles (4):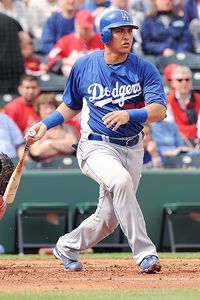 Norm Hall/Getty ImagesAn .847 spring OPS has helped make Hector Gimenez a longshot as opposed to a no-shot.
1) Jay Gibbons vs. Xavier Paul vs. Trent Oeltjen, OF, vs. Hector Gimenez, C/1B: Gibbons' spring has been a nightmare, to the extent that Tony Gwynn Jr. might already have passed him in the pecking order for playing time. Xavier Paul, seemingly healthy and performing better as the month goes on, is now adding to the pressure while the eyesight-plagued Gibbons tries to solve his vision problems. A third-party candidate is Trent Oeltjen, who has been hitting all spring – and we'll even leave open the possibility that Gimenez could take this spot instead of a sixth outfielder.  Chances: Gibbons 45%, Paul 35%, Oeltjen 10%, Gimenez 10%.
2) Aaron Miles vs. Ivan De Jesus Jr. vs. Justin Sellers vs. Juan Castro, IF: A veteran has the automatic edge when you're talking backup infielder, so it seems safe to knock out De Jesus and Sellers, neither of whom have seized the day. Miles has had a better spring than Castro and is also centuries younger. Castro has that Brad Ausmus-like zen quality that Ned Colletti admires, but Miles has sufficient experience to fill the role. Chances: Miles 80%, Castro 10%, De Jesus 5%, Sellers 5%.
3) + 4) Ron Mahay vs. Scott Elbert vs. Ramon Troncoso vs. Lance Cormier, RP, vs. John Ely vs. Tim Redding, SP, vs. position player: These two final spots seem very much up for grabs at this point, compounded by the uncertainty over whether the Dodgers will start the year with four or five starting pitchers, and whether they'll start with 11 pitchers overall or 12.
If they keep a fifth starter, it's still an open battle. Both Redding and Ely can be sent to the minors, though the difference is if Redding is placed on the major-league roster, he would then have to clear waivers before he could go to Albuquerque (once, say, Vicente Padilla or Jon Garland was healthy). The Dodgers can yank Ely up and down this year at will.
Both Ely and Redding started the spring excellently, then faltered (like every other Dodger starter in the past week). Ely is on the upside of his career but with something to prove; Redding is on the downside of his career with something to prove. My guess is that even if Ely wins the job, the Dodgers won't want him to lose his rhythm by pitching in long relief during the opening days of the season – meaning he would start the season in the minors and then come up April 12 when he is needed. I'm not sure they'd have those reservations with Redding.
Among the lefthanders, Mahay finally had a decent inning Tuesday, though the four batters he faced had 19 career major-league homers. Still, it's hard to imagine that, short of a 180-degree turnaround, the Dodgers are ready to rely on Elbert, who has walked nine of 20 batters he has faced this spring.
Troncoso has outpitched both lefties, though I'm not sure the Dodgers are convinced he's all the way back from his 2010 struggles. If he were, he and MacDougal would exchange places. Lance Cormier has gotten little attention while throwing four innings and allowing seven hits while striking out one, but he remains in the running.
And then there's the chance the Dodgers go with an 11-man staff and keep six guys on the bench. Gimenez, anyone?
If the Dodgers were making their final cuts today, I'd predict they keep two relievers at the outset and fly Ely to San Francisco on April 12. Chances: Troncoso 45%, Mahay 45%, Cormier 30%, Ely 30%, Redding 25%, position player 20%, Elbert 5%.