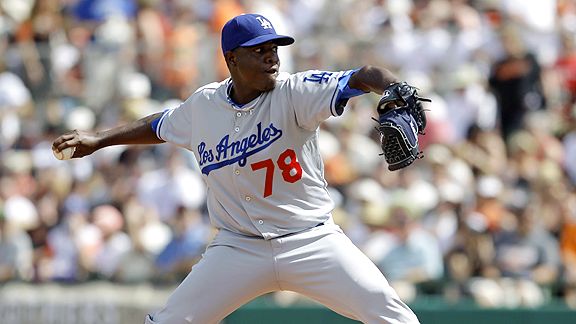 APRubby De La Rosa
Just as there's no denying how meaningless Spring Training performances generally are, there's also no denying how much fun it can be when you see a top prospect excel. Has there been a better March memory this century than Clayton Kershaw's Public Enemy No. 1 from 2008? (It helps when you have Vin Scully documenting it.)
Though it's hardly been the best of Dodger Spring Trainings in 2011 (albeit one devoid of controversy), the organization's reigning players of the year have far from disappointed. Jerry Sands was red hot at the plate in the early going, and now there's pitcher Rubby De La Rosa, who fired four no-hit innings in a start against San Francisco today.
De La Rosa walked three (his first free passes of the spring) and struck out two. In exhibition play, the player who will become the centerpiece of the Dodgers' 2013 "Rubby Tuesday" marketing campaign has thrown 10 innings and allowed seven baserunners while striking out seven and posting a 1.80 ERA.
De La Rosa will start the season in the minors, but will we have to wait until 2012 for his arrival? If he can pitch consistently into the summer, maybe not …
However unrealistic (at least in the short term), it's fun sometimes to just tune out the noise and think about guys like Sands and De La Rosa as potential saviors.
* * *
Dodgers 6, Giants 3
Highlights:
Um, Hector Gimenez homered again, this time off Guillermo Mota. Gimenez is a combination of fun and scary. Dare I even consider falling in love with this guy? How about a no-strings-attached fling?
Matt Kemp was in the thick of things again, with a triple, walk and sacrifice fly.
Second base, the position that could open up if Casey Blake goes on the disabled list, looked nice to Ivan De Jesus,Jr., who started there and went 3 for 4 with a double.
Xavier Paul, who also homered off Mota, upped his spring OBP to .343 and slugging percentage to .625.
Rafael Furcal and James Loney had two-hit games.
Lowlights:
Blake Hawksworth allowed two runs in the fifth inning.
Kenley Jansen struck out two but allowed back-to-back extra-base hits in between.
Sidelights:
Batters retired by De La Rosa: Mike Fontenot, Miguel Tejada, Aubrey Huff, Nate Schierholtz, Aaron Rowand, Travis Ishikawa, Jeff Suppan, Tejada, Huff, Pablo Sandoval, Schierholtz.
In 31 plate appearances this spring, Loney has 10 singles, no extra-base hits and one walk.
In their past two games, the Dodgers have 25 hits and one walk.
Confession: While checking in on the game via MLB Gameday, I saw Eugenio Velez homered in the ninth inning, and I groaned. Then, I saw that he had added to the Dodger lead, and remembered he was on the team. Then I saw that Gameday had made a mistake, and it was really Paul who hit the homer.