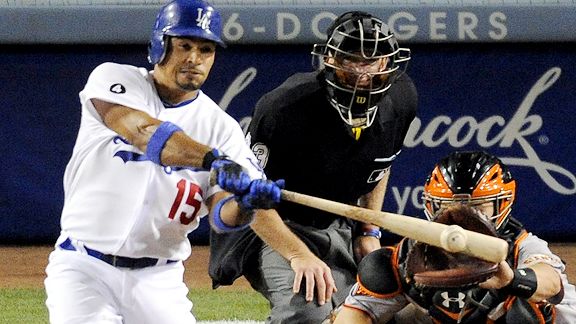 Mark J. Terrill/APRafael Furcal delivers his game-winning hit.
Two games into the season, the Dodgers have kindly requested that their fans not despair.
If your pitcher gives up a bunt single and hits a batter to start the game, he can still order up a double-play grounder.
If that same pitcher gives up a three-run homer in the fourth inning, that doesn't mean he won't complete six solid innings.
And if you find yourself down by two runs against San Francisco's No. 2 starting pitcher, don't give up on the idea of a comeback.
On a night that you could not get the uncertain fate of assaulted Giants fan Bryan Stow out of your mind, the Dodgers, energized for the second night in a row on offense by Matt Kemp, rallied for three runs in the bottom of the sixth inning and once again hung on for a 4-3 victory.
After hitting an RBI double to give the Dodgers a short-lived 1-0 lead in the fourth inning, Kemp singled to start the bottom of the sixth and then went from first to third on a hit-and-run groundout by Marcus Thames. James Loney inside-outed a fly ball to left field to cut the Dodgers' deficit to one, with a tip of the cap to new baserunning coach Davey Lopes.
The Giants then proceeded to tie their season high for sixth-inning errors: two. Following Rod Barajas' single, Aaron Miles hit a slow roller to third that Pablo Sandoval gloved but threw away, The single-plus-error put runners on second and third base.
In his first major-league at-bat since September 27, 2006 and third overall, Hector Gimenez (batting for Billingsley, who allowed seven baserunners in six innings, striking out four)  hit a slow bouncer between the mound and third base, which Giants starting pitcher Jonathan Sanchez whiffed, allowing tying run Barajas to score. Rafael Furcal's solid single off reliever Guillermo Mota completed the rally by driving home Miles.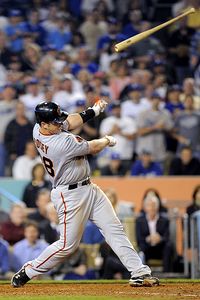 Mark J. Terrill/APBuster Posey's lightning-bolt whiff.
Of course, that hardly meant the game – or the worry – was over. The fifth of six players of the night making his Dodger debut, Blake Hawksworth, allowed a bunt single, another single and a walk to load the bases with two out and San Francisco cleanup hitter Buster Posey on deck.  An 0-2 count went to 3-2.
Despair? Maybe. Defeat? Not this time. Posey swung hard and missed hard, his bat flying like an errant missile into the stands to his left.
A quick eighth inning – featuring a diving catch by Kemp – set the stage for Jonathan Broxton, who this night would not have a two-run cushion to play with, but just one. Let's play it again, Sam.
vs. Mark DeRosa: called strike, called strike, called strike. Bat never left the man's shoulder.
vs. Andres Torres: ball, fly out to right-center field.
vs. Freddy Sanchez: ball, called strike, slider just low, fastball fisted to Loney.
That ninth inning looked easy. Despair may yet come, but tonight, it was no match for hope.
"This is just the beginning," Kemp told Prime Ticket after the game.
Let's pass some of that hope Bryan Stow's way, as well as toward a belief that someday, everyone will realize that you don't get to use a baseball rivalry as an excuse to commit mayhem.