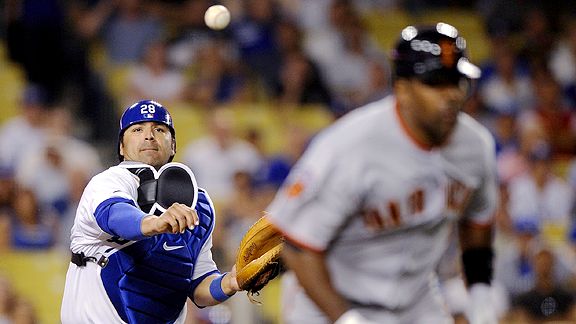 Kevork Djansezian/Getty ImagesRod Barajas throws out Miguel Tejada at first during the ninth inning Thursday.
We have our first regular season Dodger injury of the year. Juan Uribe, who was hit by a Tim Lincecum pitch when the Dodgers exploded for an unearned run in the sixth inning Thursday, was scratched from today's starting lineup.
Ivan De Jesus Jr., already scheduled for his major-league debut tonight, will now be joined in the starting lineup by Aaron Miles, making his Dodger debut. Tony Jackson of ESPNLosAngeles.com has more details.
… Stan Conte, the Dodgers' director of medical services, stressed that the X-rays were strictly precautionary and that the pitch that hit Uribe struck muscle as opposed to bone. There was some hope Uribe would be available to pinch hit after returning from White Memorial Hospital, where the X-rays were taken.

"I'm going to go get it looked at now," Uribe said as he changed back into his regular clothes before leaving Dodger Stadium.

Although the Dodgers already have five players on the 15-day disabled list, no one seemed especially concerned that Uribe could join them.

"I had him in the lineup, but he came in swollen," Dodgers manager Don Mattingly said. "Stan was actually really surprised. Hopefully, it's just today." …
* * *
Former Dodger minor-leaguer Carlos Santana singled twice and homered for Cleveland, which rallied from a 14-0 Opening Day deficit to a 15-10 loss to the White Sox.