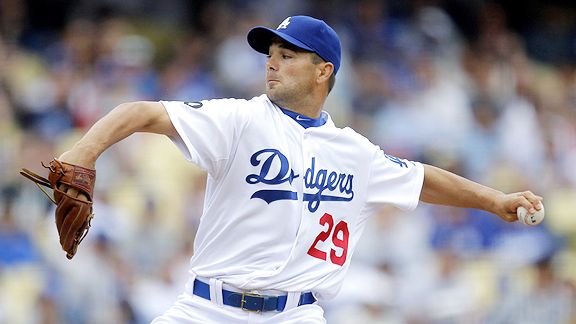 Jae C. Hong/APTed Lilly allowed six hits and a walk in his 4 2/3 innings.
I won't have a postgame writeup until late tonight, so here's a midgame update.
At an overcast Dodger Stadium, Dodgers starting pitcher Ted Lilly was sunny for the first two innings – six innings, 22 pitches – before allowing hits to the Giants' No. 7 and No. 8 hitters, Mark De Rosa and Aaron Rowand, leading to a second-inning run.
Then after an easy fourth, the Giants started another bottom's-up rally in the fifth. Hits by Rowand, Miguel Tejada, Freddy Sanchez and Aubrey Huff delivered three more runs, putting the Dodgers behind, 4-0, and knocking Lilly out.
In the first four innings, the Dodgers had only two baserunners against Matt Cain – Matt Kemp's second-inning leadoff double and an infield single by Andre Ethier in the fourth. James Loney, Hector Gimenez and Xavier Paul stranded Kemp, and Kemp's double-play grounder eliminated Ethier.
The Dodgers then tried to rally with two out in the bottom of the fifth on singles by Paul and Jamey Carroll, but Rod Barajas, batting for reliever Mike MacDougal, struck out.
* * *
Tony Jackson's ESPNLosAngeles.com notebook includes the sad news that Dodger coach Davey Lopes had to leave the team this weekend because of a death in the family. All my best wishes.