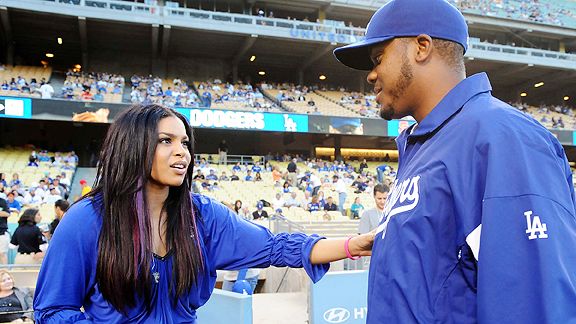 Jayne Kamin-Oncea/US PresswireJordin Sparks warns Kenley Jansen during pre-game ceremonies Saturday to watch out for the Giants.
Doozy of a game between the Royals and Angels today. Don't think we'll see that kind of scoring in Los Angeles tonight.
In other news …
The Indians released ex-Dodger first-round pick Preston Mattingly, the son of Dodger manager Don Mattingly who was dealt to Cleveland last fall. The Indians did not release Carlos Santana, who started a triple play while playing first base today and is 6 for 13 with a walk and home run so far this season.
Eric Stephen of True Blue L.A. notes that the Dodgers' early season home run drought is already its longest in nine seasons, and counting.
Be sure to jump into our Cover It Live chat for tonight's game.