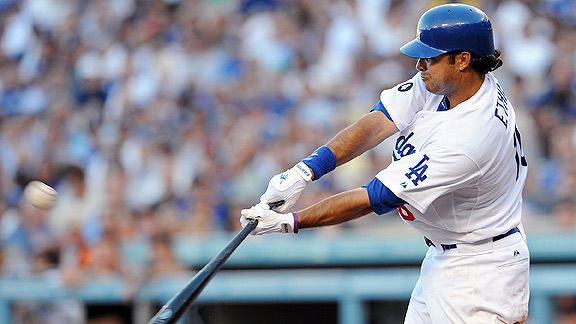 Jayne Kamin-Oncea/US PresswireThe Dodgers' second-best hitter of the young season, Andre Ethier has reached base 11 times but scored zero runs.
Welcome to the first edition of Dodger Cogs and Dogs, 2011.
As before, Cogs and Dogs is my ranking of the most valuable Dodgers of the year, top to bottom, mixing subjectivity and objectivity and focused on what's already happened, not what's likely to happen.
The final Cogs and Dogs of 2010 left us with only five players that you didn't have much or any reason to complain about. This year's debut installment isn't much different.

| | | | |
| --- | --- | --- | --- |
| Today | 2010 | Player | Comment |
| 1 | 1 | Clayton Kershaw | Came up huge on Opening Day, solid enough in second start |
| 2 | 6 | Matt Kemp | Has Dodgers' only stolen base in six games. |
| 3 | 4 | Andre Ethier | .440 OBP but no extra-base hits |
| 4 | 2 | Hiroki Kuroda | Efficient first start nearly ended in no-decision. |
| 5 | 9 | Jamey Carroll | He's back: .412 on-base percentage, playing in every game. |
| 6 | 19 | Rod Barajas | .824 OPS third among regulars. |
| 7 | 7 | Rafael Furcal | Gonzalez' catch cost him glory and higher cog rating. |
| 8 | — | Matt Guerrier | Two perfect innings with two strikeouts in Colorado. |
| 9 | 13 | Jonathan Broxton | People question his guts, but no player faced greater pressure so far. |
| 10 | 8 | Casey Blake | Hottest hitter on the team. |
| 11 | 33 | Xavier Paul | Batting .400, might outlast Gimenez after all. |
| 12 | — | Tony Gwynn Jr. | Showed off defense Tuesday, but no steal attempts yet. |
| 13 | — | Mike MacDougal | Five batters, four outs. |
| 14 | 11 | Ted Lilly | Strong first start just got away from him. |
| 15 | 22 | A.J. Ellis | Carried red-hot September into current 1-for-1 season. |
| 16 | 5 | Hong-Chih Kuo | 22 pitches in each of his first two games. |
| 17 | 10 | James Loney | 24 plate appearances, four hits, no walks. |
| 18 | 3 | Chad Billingsley | Career ERA at Coors Field now 7.24. |
| 19 | — | Marcus Thames | His triple on Sunday might have been a gift, but at least he got it out there. |
| 20 | — | Aaron Miles | Six air-outs in 11 at-bats for a player who hasn't homered since '08. |
| 21 | — | Hector Gimenez | One hit better than De Jesus. |
| 22 | — | Blake Hawksworth | Fourth-inning homer allowed Wednesday costly. |
| 23 | — | Lance Cormier | Needs nine more innings to have longer Dodger career than Lance Carter. |
| 24 | 16 | Kenley Jansen | Nice to see him bounce back with two shutout innings Wednesday. |
| 25 | — | Juan Uribe | Four games, two singles, one somersault. |
| 26 | — | Ivan De Jesus Jr. | .125 OPS, 71% strikeout rate |