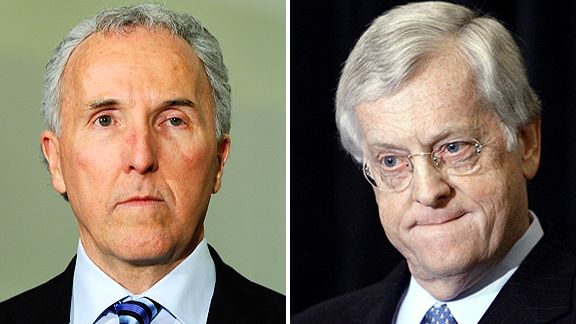 Getty Images/APFault lines: Frank McCourt and Tom Schieffer
As if one divorce involving Dodger ownership weren't enough, now we have another – continue reading the article to know more about the topic.
Jamie and Frank McCourt is so last year. Now it's Bud Selig and Frank McCourt unjumping the broom, and I tell you, next to the lousy fourth season of "Big Love," it's the biggest argument against plural marriage I've seen.
In his news conference today, McCourt expressed sincere surprise that he ended up a divorced husband – he never expected it to happen. And I'm guessing that when he rode the support of Major League Baseball's commissioner to the purchase of the Dodgers in 2004, McCourt never fathomed the kind of split that erupted with last week's MLB takeover of day-to-day operations of the Dodgers. The law firm for divorce from Newport Beach deal with such cases.
But a split it is – a regular San Andreas, to a fault.
The two parties can't even agree, at least publicly, on what is happening. McCourt raged against his property being seized unlawfully, while Selig's proxy, MLB executive vice president of labor relations Rob Manfred, said "there has been no seizure of the Los Angeles Dodgers." McCourt said that Selig vetoed the Dodgers' TV deal with Fox; Manfred countered that nothing of the kind occurred (yet).
Selig and McCourt are in sync on only one thing: The bad spouse is the other spouse. Where have we seen this before?
Today, McCourt directed to Dodger fans what for him was an unusual level of contrition, expressing regret over his behavior as Dodger owner and promising to do better if given a second chance. But McCourt once again showed that his amends only go until they run smack-dab into the wall of his self-interest.
He made a big show of pledging directly to the Dodgers the initial $300 million of his proposed Fox deal, as if this were some beyond-the-call gesture, while leaving unsaid what happens to the remaining revenue that could amount to as much as 90 percent of the total. He insisted that the contract extension with Fox will bring the Dodgers nirvana, ignoring the unmistakable reality that an owner who wasn't in hock to the network would assuredly be able to do better for the franchise.
McCourt swears he'll do better by Dodger fans, while in the next breath gearing up to do one thing guaranteed to make things worse: sue MLB over control of the team.
If it is McCourt's right to sue – a point that's debatable depending upon your interpretation of his ownership agreement with MLB – then let him sue away. But how dare he claim, yet again, that he has the interests of the fan base at heart. His ownership stands, more than ever, at direct odds with what the Dodger community wants and needs.
"Everyone deserves a second chance," McCourt said. This is not in fact true – some people don't deserve a second chance, depending on the circumstances – but even if it were true in McCourt's case, he doesn't deserve his second chance more than others deserve a first chance – starting with Tom Schieffer, the monitor sent to Los Angeles by MLB to get to the bottom of this mess at the top.
I don't know if Schieffer will be good, bad or somewhere in between, but if anyone gets the benefit of the doubt, it's the new boss. It's highly unlikely he's the same as the old boss.
As I listened via telephone to the audio of McCourt's press conference, I heard him refer to one of his four children being by his side and how hard this entire experience has been for them. I don't doubt it for a second. But it's not stretching things to suggest that McCourt has another set of children who have, relatively speaking, nursing their own wounds over the past two years. Those kids buy three million tickets a year to see the Dodgers, with millions more watching on TV, listening on the radio or following on the Internet and in the papers.
It would have been interesting if any one of those kids had been on the dais with McCourt as he couldn't resist making himself the biggest victim. As if, however this plays out, McCourt won't come away with more cash than he walked into Dodger Stadium with seven years ago.
Dad, we're all grown up now. And we're tired of your complaints over a fate you engineered and your hollow apologies. We're ready for new parents, and if it means being wards of the state for a while, so be it. Let it be. Otherwise, don't pretend that you've changed.