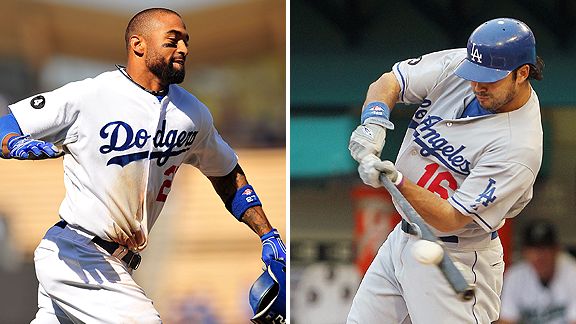 US Presswire/Getty ImagesThe hit men
This might have been the best 1-2 battle in this history of Dodger Cogs and Dogs. I gave the nod to Matt Kemp, but feel free to throw your support Andre Ethier's way.
And if Clayton Kershaw could have closed out his recent starts more strongly, it might have been a three-way battle.
Anyway, there was lots of activity in the 20-game stretch since the last Cogs and Dogs, but the overall picture is the same: There's a guy in the top 10 who isn't hitting .200.
As always, Cogs and Dogs mixes subjectivity and objectivity and focuses on what's already happened, not what's likely to happen.

| Today | 4/7 | Player | Comment |
| --- | --- | --- | --- |
| 1 | 2 | Matt Kemp | It's been a good year when an .804 OPS over past 10 games is a slump. |
| 2 | 3 | Andre Ethier | Ethier's hot start isn't just luck, writes Chris Cwik of Fangraphs. |
| 3 | 4 | Hiroki Kuroda | Five walks, 23 strikeouts in 33 2/3 innings. |
| 4 | 1 | Clayton Kershaw | Has been removed mid-inning in past four starts. |
| 5 | 10 | Casey Blake | Stuck on the sidelines with a .956 OPS. |
| 6 | 5 | Jamey Carroll | On pace to play in 156 games in 2011. |
| 7 | 18 | Chad Billingsley | Groundout/flyout ratio above 1.0 for first time in career. |
| 8 | — | Jon Garland | Three walks in 20 innings. |
| 9 | 6 | Rod Barajas | On pace to bat .182 with 31 homers. |
| 10 | 25 | Juan Uribe | Nine of his 13 RBI this season came in 40-hour stretch. |
| 11 | 13 | Mike MacDougal | I'm surprised Old School fans haven't mentioned him as a closer candidate. |
| 12 | 8 | Matt Guerrier | Chicago outing was worst-timed relief outing of Dodger season. |
| 13 | 19 | Marcus Thames | Five starts this season, none since April 13. |
| 14 | — | Jerry Sands | After nine games, he's third on team in doubles. |
| 15 | 22 | Blake Hawksworth | A RHP who has held lefties to .174 OBP. Righties have .367 OBP. |
| 16 | 9 | Jonathan Broxton | Don Mattingly said Broxton's elbow was "barky" Wednesday, reports Tony Jackson of ESPNLosAngeles.com. |
| 17 | 12 | Tony Gwynn Jr. | Puts the ball in play: 53 plate appearances, two walks, five strikeouts. |
| 18 | 14 | Ted Lilly | Opponents hitting .321 against him (.359 BABIP). |
| 19 | — | Vicente Padilla | 39th player to notch a save and a shutout as L.A. Dodger. |
| 20 | 24 | Kenley Jansen | Seven strikeouts in past two games, 20 in 12 1/3 innings in '11. |
| 21 | 20 | Aaron Miles | Eighth on team in plate appearances and climbing. |
| 22 | 15 | A.J. Ellis | Tied for fifth on team in walks with four. |
| 23 | 17 | James Loney | Doubled on Opening Day – none since. |
| 24 | 7 | Rafael Furcal | Five hits in April not exactly what Dodgers hoped for. |
| 25 | 16 | Hong-Chih Kuo | Rehab struggles indicate activation isn't imminent. |
| 26 | — | John Ely | Tied for second on team in times caught stealing. |
| 27 | 11 | Xavier Paul | Dodger career ends with .280 OBP, one homer. |
| 27 | 26 | Ivan De Jesus Jr. | .313 OBP vs. starters, .000 OBP vs. relievers. |
| 29 | — | Dioner Navarro | Be sure to check the splits on Navarro's 2011. |
| 30 | 21 | Hector Gimenez | One of 74 players with exactly one career hit as Los Angeles Dodger. |
| 31 | — | Jamie Hoffmann | 0 for 4 in brief stint. |
| 32 | 23 | Lance Cormier | Has pitched one inning since April 15. |
| 33 | — | Ramon Troncoso | How do you give up 12 hits in 2 2/3 innings? |