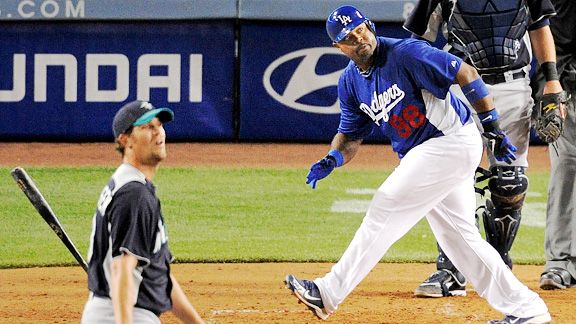 Mark J. Terrill/APCorey Smith blasted a three-run home run on the final day of Spring Training against Mariners pitcher Tom Wilhelmsen.
The Dodgers are expected today to make official the callup of Russ Mitchell to take the place of Casey Blake, who is suffering from an infection in his elbow. The Dodgers could have gone another way by turning to a guy you probably first heard about in Spring Training – if you heard of him at all – Corey Smith. Here's the why and why not:
Why:
Though he had an .898 OPS in Albuquerque last year, Mitchell only has a .281 on-base percentage and .383 slugging percentage this year.
Playing first with Chattanooga and then with Albuquerque this year, Smith has a .416 on-base percentage and .993 slugging percentage with three homers, six walks and 12 strikeouts in 77 plate appearances.
Smith has played 984 games in the minors at Blake's position of third base.
He hit some of the longest balls of any Dodger in Spring Training, when he was seven for 12 with two doubles, three homers, four walks and one strikeout.
He's this year's Mitch Jones/John Lindsey: Drafted in 2000, he has spent 12 seasons and 1,365 games in the minors without a cup of coffee in the show.
Why not:
His minor-league numbers this year aren't that special – playing in Albuquerque (1.143 OPS) has inflated his performance in Double-A (.812 OPS).
He has only played one game at third base this year (but take note – it was Thursday).
He is not on the 40-man roster, meaning that someone would have to be designated for assignment (Jamie Hoffmann?) or moved to the 60-day disabled list (Hector Gimenez?)
His Spring Training at-bats usually came against minor-leaguers and don't prove much.
All that being said, I'd kind of like to see Smith get the shot – partly for sentimental reasons, partly because I wouldn't mind seeing what appears to be a bigger offensive threat off the bench. Mitchell also has home run potential, having hit two in his September 2010 promotion last year (while going 6 for 42 overall). But on the theory that the Dodgers will probably continue to start Aaron Miles at third most of the time until Juan Uribe returns, I'm not too worried about Smith's lack of play at the position this season.
An even more radical decision by the Dodgers would be to call up outfielder Trayvon Robinson, who has started nicely in Albuquerque this year except when you consider his strikeouts, and make Jerry Sands the emergency third baseman. But I'm sure you can see the pitfalls with that …
Anyway, this will probably all be moot by gametime, but I just thought I'd think out loud about Smith.
* * *
Dodgers getting cosmic comeuppance for abandoning Brooklyn blah blah blah, by George Vescey in the New York Times.
Earlier this week before the latest ownership explosion, the Dodgers filled their security opening by hiring former LAPD captain Rich Wemmer.
Mark Saxon of ESPNLosAngeles.com writes about the tragic offseason of Angels rookie Alexi Amarista.
Finally, I know you're sick of hearing about our wedding after all the buildup and global media coverage, but nevertheless, I still want to take this opportunity to wish a happy 11th anniversary to my wife – I love you, honey!