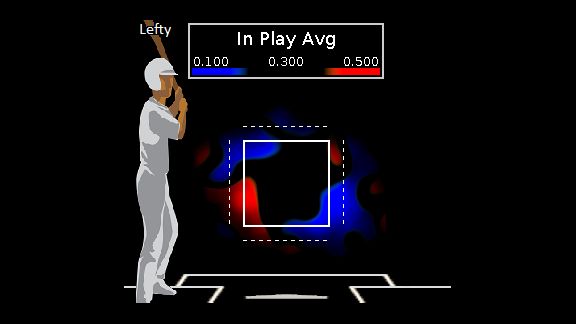 The heat map above shows Andre Ethier's "hot" and "cold" zones against left-handed pitching since 2009. The red areas are his "hot" zones. The blue are his "cold" zones.
Hi everyone – the following is a guest post from Mark Simon of ESPN Stats and Information:
The last time a Dodger brought as long a hitting streak as Andre Ethier into a meeting with the Mets, an ESPN baseball analyst named Bobby Valentine was making his big league debut.

Willie Davis was able to extend his hitting streak to a club record 30 games in a meeting with the Mets on September 2, 1969. But later in the game, after a call of "In comes Valentine!" from Dodgers radio voice Vin Scully on a two-run single by Andy Kosco, Mets reliever Tug McGraw struck Davis out with the tying run on third base to end a 5-4 Mets victory, one of many amazing wins for the eventual champs. Davis got his streak to 31 the next day, a number that still stands as the top Dodgers mark.

Ethier will get a chance to better Davis at Citi Field, with Jonathon Niese the first moundsman in his way.

According to the Elias Sports Bureau, he'll be the fifth hitter to bring a hit streak of 29 or more games into a meeting with the Mets, along with Davis, Pete Rose, Jimmy Rollins and Chase Utley. Rose was able to set the NL record for a hitting streak by hitting in his 37th, 38th, and 39th straight games against the Mets in 1978 (the streak would stretch to 44 games before ending).

Rollins reached 33 games with hits in three straight games against the Mets late in 2005. The one hitter the Mets stymied was his teammate, Utley, who had his 35-gamer snuffed on August 4, 2006 by Orlando Hernandez, Darren Oliver and Pedro Feliciano.

Let's take a closer look at the potential matchups that could come between Ethier and history this weekend, presuming he's healed enough from his elbow injury to play.

Friday vs. Jonathon Niese

Never faced

Ethier is 8-for-35 against left-handed pitching this season, a .229 batting average that is 200 points below what he's currently hitting against right-handed pitching. But keep in mind that he went hitless in his first 11 at-bats of the season against lefties. Since then, he's 8-for-24 against them, his most recent hit being an infield single against James Russell that pushed the streak to 29.

There are significant differences in how Ethier hits right-handers, compared to how he fares against lefties for his career. He's a .312 career hitter against righties, averaging a homer every 22 at-bats. Against lefties, he's hitting .246 (.214 since 2009), with a homer every 49 at-bats.

Ethier's biggest issue against lefties is his propensity for swings and misses. Since 2009, he's missing on one out of every four swings against a left-handed pitcher, compared to one of every six swings against righties.

At the top of this piece is a heat map, that shows Ethier's performance when he puts the ball in play against a lefty. He has two vulnerable spots—the blue shaded areas that are up-and-in and down-and-away.

The one area in which he's working from a position of strength is the red-shaded area, down and in. Closer examination of the pitch type data from video review shows that most of Ethier's hits come against fastballs to that area.

Comparatively speaking, Mets starter Jonathon Niese is a much easier target for Ethier than most left-handed pitchers, as he's not someone who generates a lot of swings and misses.

Lefty hitters are hitting .286 in 217 at-bats against Niese for his career (11-for-40 in 2011). That's among the worst for any active lefty pitcher who has faced at least 200 lefties.

Saturday vs. Chris Young

.414 BA, 6 HR in 29 AB

If Ethier can get to Saturday with his hitting streak intact, he's probably going to be feeling pretty good heading into that day's matchup. His numbers, particularly his power numbers, against Mets starter Chris Young, are amazing.

Whether that's enough of a sample size to predict future performance is another discussion for another time. The history available says Ethier should feel confident. He has six home runs against Young, against whom he's hitting .414 in 29 at-bats. There's no other pitcher against whom he has more than two homers. Their last meeting was June 9, 2009, a game in which Ethier went deep three times against the then-Padre. Two of the fly balls left the ballpark. The other was well-struck but caught in center field.

"He seems to punish me," Young told the media after that game.

Most left-handers don't hit Young with the same rate of success that Ethier does. Lefty hitters are hitting just .223 against Young in a career sampling of 1,420 at-bats. The only active starting right-handed pitchers with better success against lefty hitters are Diamondbacks starter Ian Kennedy (.218) and Giants ace Tim Lincecum (.222).

Left-handed hitters are 5-for-48 with 16 strikeouts against Young this season., a .104 opponents batting average. The Phillies loaded their lineup with batters who hit left-handed against Young on Sunday Night Baseball last week, but they were a combined 1-for-17, with 0-fors from among others, Jimmy Rollins, Shane Victorino and Ryan Howard.

Sunday vs. R.A. Dickey

.500 BA, 2 AB

If Ethier survives to Sunday, he'll see a pitch with which he has not had a lot of familiarity over the last two seasons, the knuckleball.

Dickey and Ethier met last July 25 and it was a fastball on which Ethier got one of the two hits the Dodgers mustered that day through 5 2/3 innings of facing him. In Ethier's other turn, a Dickey knuckleball yielded a ground-ball double play.

According to our video review data, Ethier has seen 15 knuckleballs since the start of the 2009 season. He's swung at 10 of those pitches, missing four of them (including once when he was struck out by Tim Wakefield) and putting five into play.

Whoever figures to be the Mets second baseman on Sunday should come prepared. Of the five times that Ethier has put a knuckler into play, four of those balls have been hit right to the spot where a second baseman would normally play. His next hit against a knuckleball will be his first since 2009.