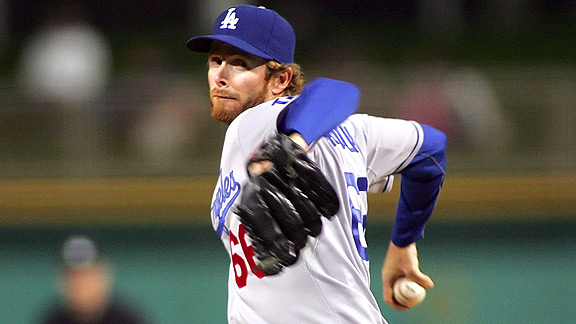 Jake Roth/US PresswireNon-roster Spring Training invitee Mike MacDougal has the lowest ERA on the pitching staff.
I don't know, maybe I'm going about this all wrong.
When you can't even find 10 players you really feel good about ranking out of a group of 35, maybe you need to start ranking something else. For example, if I were ranking TV Cogs and Dogs, I wouldn't start to worry I was running out of great players after Ron Swanson and Raylan Givens.
I dare say that after rounding out my top 10 with an injured Casey Blake, hit-by-pitch magnet Juan Uribe, a slumping Jamey Carroll and a battle between relievers Blake Hawksworth and Mike MacDougal, I'm ready to go back to reading about all the challenges that Josh Fisher lists for Dodger monitor Tom Schieffer and wondering how Frank McCourt can blame Major League Baseball for the Dodgers' inability to make 1/12th of his $100 million-or-so payroll at the end of this month. I mean, Luke Walton probably has enough saved to cut the Dodger players their paychecks.
Anyway, as always, Cogs and Dogs mixes subjectivity and objectivity and focuses on what's already happened, not what's likely to happen. And afterword, don't miss Mike Petriello's interview at Mike Scioscia's Tragic Illness with Albuquerque Examiner writer Christopher Jackson about the Isotopes, which is overflowing with interesting information.
| | | | | |
| --- | --- | --- | --- | --- |
| Today | 4/28 | 4/7 | Player | Comment |
| 1 | 1 | 2 | Matt Kemp | Still rates slightest edge over Ethier, but back to nearly a strikeout per game. |
| 2 | 2 | 3 | Andre Ethier | If elbow trouble is chronic, put Dodgers out to pasture. |
| 3 | 3 | 4 | Hiroki Kuroda | 36-year-old on track to lower ERA for third straight year. |
| 4 | 4 | 1 | Clayton Kershaw | Allowing HRs at career-high 1.2 per nine innings. |
| 5 | 8 | — | Jon Garland | In past three starts, only 18 baserunners in 22 innings. |
| 6 | 7 | 18 | Chad Billingsley | 1.98 ERA, .554 OPS against him in past four starts. |
| 7 | 5 | 10 | Casey Blake | .956 OPS will keep him in top 10 for a little longer if no one steps up. |
| 8 | 10 | 25 | Juan Uribe | Postgame X-rays on hand were negative. |
| 9 | 6 | 5 | Jamey Carroll | In 4-for-28 slump (with two walks). |
| 10 | 15 | 22 | Blake Hawksworth | .203 opponents' batting average lowest on team (minimum 10 innings) |
| 11 | 11 | 13 | Mike MacDougal | Keeps walking guys but ERA remains below 1.00 |
| 12 | 12 | 8 | Matt Guerrier | Most innings on staff without allowing home run. |
| 13 | 9 | 6 | Rod Barajas | Four walks, 26 strikeouts. |
| 14 | 17 | 12 | Tony Gwynn Jr. | Should see more playing time if Ethier is out for long. |
| 15 | 19 | — | Vicente Padilla | Four straight hitless innings (two walks). |
| 16 | 14 | — | Jerry Sands | Fewest PA (55) of any Dodger ever with at least six doubles in career. |
| 17 | 18 | 14 | Ted Lilly | No one noticing, but only two quality starts in seven tries. |
| 18 | 20 | 24 | Kenley Jansen | Working on that second pitch? Gave up 3-R HR for Chattanooga Wednesday. |
| 19 | 16 | 9 | Jonathan Broxton | Allowing .387 OBP this season. |
| 20 | 21 | 20 | Aaron Miles | This year's Angel Berroa. |
| 21 | 22 | 15 | A.J. Ellis | .438 OBP in Triple-A since demotion. |
| 22 | 13 | 19 | Marcus Thames | .501 OPS as a starter (21 plate appearances). |
| 23 | 24 | 7 | Rafael Furcal | Last played April 11, hopefully will start baseball activities soon. |
| 24 | 25 | 16 | Hong-Chih Kuo | Strikeouts are there, just needs sharper control (and health). |
| 25 | 27 | 11 | Xavier Paul | Was 6 for 14 with Pirates before 0 for 5 on Wednesday. |
| 26 | 26 | — | John Ely | Five runs, 15 strikeouts in past 19 1/3 innings. |
| 27 | 29 | — | Dioner Navarro | Knocked his second hit of season. |
| 28 | 30 | 21 | Hector Gimenez | 35 days since his last game – 60-day DL beckons. |
| 29 | — | — | Russ Mitchell | After no BB in 2010, walked in first '11 plate appearance. |
| 30 | — | — | Jay Gibbons | First three AB were three strikeouts on 24 total pitches. |
| 31 | 31 | — | Jamie Hoffmann | On another Triple-A hot streak: 1.004 OPS. |
| 32 | 23 | 17 | James Loney | Friday marks one month since last extra-base hit. |
| 33 | 27 | 26 | Ivan De Jesus Jr. | Most at-bats on team (28) without extra-base hit. |
| 34 | 32 | 23 | Lance Cormier | 24 pitches thrown since April 15. |
| 35 | 33 | — | Ramon Troncoso | Eight earned runs allowed in past 9 1/3 minor-league innings. |