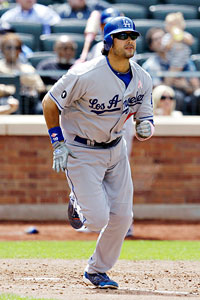 Kathy Willens/APThe Dodgers are 4-0 when Andre Ethier homers.
Rebooting after the end of his 30-game hitting streak, Andre Ethier went 2 for 4 Sunday, including a big, breathing-room two-run homer in the seventh inning, the likes of which the Dodgers seem to have rarely seen this season, especially of late. (Los Angeles is averaging 2.7 runs over its past 12 games, and 3.1 runs per game this season in the 32 games that haven't been played in Wrigley Field.)
Over the past 24 hours, I've seen speculation that the end of the hitting streak will make Ethier a more productive hitter, on the theory that he won't afraid to swing for the fences and give the Dodgers the power they desperately need. (Ethier's home run was his fourth of the season in 34 games.) I don't want to dismiss the theory out of hand, but it strikes me as a bit hard to believe. Let's just say that if Ethier becomes even more productive, that'll be something.
During the streak, Ethier had a .462 on-base percentage and .560 slugging percentage (1.022 OPS). Those 30 games were not cheap ones and shouldn't be dismissed. If he can do better than that, more power to him (figuratively and literally).