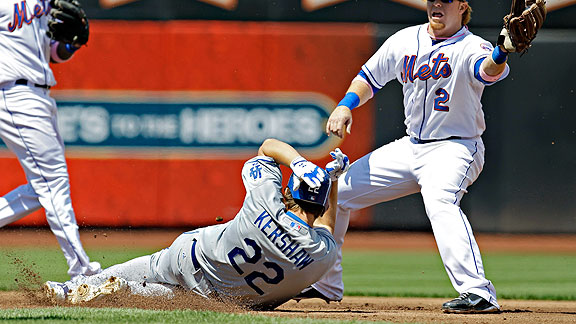 Kathy Willens/APHold on to your hats!
If you didn't see Sunday's 4-2 Dodger victory over the Mets, you missed Clayton Kershaw's lump-in-your-throat slide into second base on a passed ball by Ronny Paulino in the third inning. He roared into the bag like a kid hitting the bottom of the slide at Raging Waters.
The play ended up being pivotal toward the Dodgers' first run, but the best part about it was that Kershaw got up.
Kershaw was a bit of a wild ride on the mound as well, walking two of the first three men he faced and delivering only one perfect inning out of seven, but he was effective at keeping the Mets from converting their opportunities. He ended up allowing one run on six hits and three walks over 6 2/3 innings while striking out eight, lowering his season ERA to 3.12. For the game, New York went 1 for 9 with runners in scoring position.