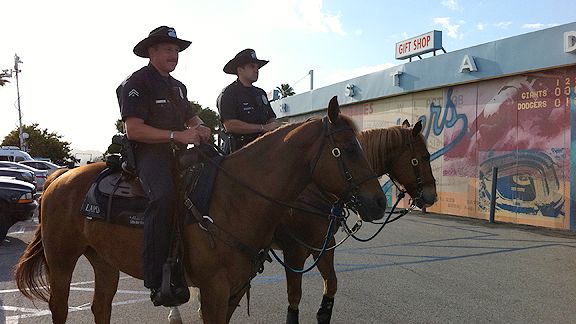 Jon Weisman/ESPNLosAngeles.com
Heading from the press box to the club level admissions entrance on the port side of Dodger Stadium, you walk through the recently installed exhibit celebrating the history of the Dodger franchise.
It's overflowing with mementos so engrossing that you could spend your entire evening inching through the halls. It was also a little too perfect a reminder of what's at stake when you're talking about the fate of the team at Chavez Ravine.
I didn't know what to expect when I came out the other side, minutes after the gates opened to let customers into the ballpark for the first new Giants-Dodgers series since Bryan Stow's beating in the parking lot March 31. I didn't even know what I was looking for, other than a vague sense of wanting to capture what it was like.
While I was fairly confident that there wouldn't be any overt hostilities between Dodger and Giants fans in the hopefully New World Order of Sanity, I did recognize the possibility of a heightened level of wariness among the ticket-holding people.
What caught me off guard was how mellow it was. How completely quiet.
Outside of the disembodied, prerecorded voice of Vin Scully, recalling animatronic Abraham Lincoln at Disneyland as he recited the rules of good behavior, there was such tranquility in the air. I don't mean just, "Hey, we're not at each other's throats." I mean a place where you could let out that deep breath that you've been holding since McCourt, since Stow, since the offense disappeared.
The way you're supposed to feel at the ballpark.
Emphasis on park. Early morning rain had given way to perfect May billows of clouds. The temperature was ideal. A cotton-candy evening. Grab a spot and sit a spell.
Yes, there were more police, on foot and on horseback and on Segway, but they chatted amiably like they were at the county fair. Fans strolled.  They saunted. They perambulated.
On nights like this, you remember that Dodger Stadium sells itself, if you just let it.
I continue circumnavigating the globe, as it were, working my around the back of the outfield pavilions and heading up along the right-field side, past Loge, past Club. I see a couple, the man wearing an SF cap on his white hair, and I engage them in neighborly conversation.
"We came to a game the same series [as the Stow incident]," recalls Richard Tetu, a San Francisco transplant now residing in Pasadena, "and I deliberately didn't wear [the cap]."
What changed? Smiling at his wife, he says, "She called me a wuss."
Says Linda Tetu, a Dodger fan with her L.A. cap: "These people [around us] were all decked out in orange."
But in addition to becoming more courageous, Richard, who brought Linda to Wednesday night's game for free using the Dodgers' promotion for military veterans, realized there was less reason for fear now.
"We knew the security would be better," he said, noting that he has been following the story raptly since it began, "and we knew the crowds would be smaller."
For Los Angeles resident Carlos Flores, a Giants fan from the days of Will Clark — "not Barry Bonds; Will Clark" — there was a sense of patient bemusement at all the fuss. A regular attendee decked in a Giants jersey, he's already been to a few Giants-Dodgers games this year. He never lost sight of why.
"I think too much was made of it, but they had to put a stop to it," Flores said of the abusive fans. "They're not here for the game. They're here for the violence."
Now, one can believe, or at least hope, that violence is off the menu. (You know, like the Cool-a-Coo. Or like an evil Cool-a-Coo.)
We, the people of Dodger Stadium, had to start over. We had to stop being held captive by our basest fans. We had to find our way back to the way a ballgame was supposed to feel. It's come at an egregious, horrific price, a man in a coma, the lives of his family in suspended animation. Many fans are still staying home. Those that remain are still impatient with the performance of the team and utterly exhausted by its owner.  The bitterness is legitimate, but it's not a weapon to be used on the game itself, or on each other.
Wednesday night, as the Giants pushed their first run across the plate, you could hear cheers. I was back in the press box, having long since completed my around-the-stadium in .08 days walk. I can only hope that the cheers by one group were met with nothing worse than jeers from the other. I can only hope that when the game ends, after I publish this piece, the fans' journey to the parking lot will be the safe, exhaling stroll it was when they came in.
But unlike before March 31, I can believe. I can believe that people remember that it's a game. At a ballpark.
The foundation for Dodger Stadium's rebirth has been laid. Now, we just need the team to catch up.