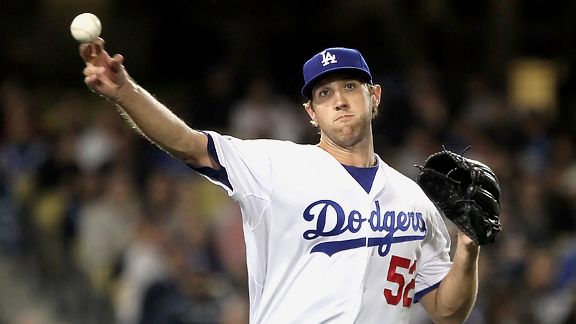 Jeff Gross/Getty ImagesJosh Lindblom has allowed one run and nine baserunners in his first nine MLB innings.
The impossible task continues.
There's Matt Kemp at No. 1, undisputed and glorious. There are Clayton Kershaw, Hiroki Kuroda, Andre Ethier and Jamey Carroll having seasons that, despite some inconsistency, you don't need to be ashamed of.  There's an increasingly competent Ted Lilly, and a tip of the hat to Aaron Miles.
And then, the morass.
Playing time, on a cumulative basis, is one of the factors I've used in my Dodger Cogs and Dogs rankings, but as I tried to figure out how to fill out just the top 10, nothing made sense anymore. So I decided to blow things up a little.
I pushed the new kids, who came late to the 2011 Dodgers but who are providing most of the energy to this team and most of the reason to watch, into the upper echelon. That means Rubby De La Rosa at No. 8, despite only 15 innings (occasionally wild) this season. That means Dee "Roadrunner" Gordon and his 36 plate appearances without a walk at No. 9. That means young relievers Javy Guerra and Josh Lindblom, with their combined 21 1/3 career innings, at No. 10 and No. 11.
And then Casey Blake, Rod Barajas and James Loney, who have all played more and made contributions here and there, but had too many issues for me to feel good about having them in the top 10.
Dodger Cogs and Dogs has always been subjective, and perhaps never more so than today. But at least I wasn't left aching as I completed the task.
* * *
Before we proceed to the rankings, one final note …
I want to call out the item on Jonathan Broxton below: "Fifth in MLB history in K/9 (11.55), minimum 300 G."
Broxton should be back with the Dodgers in a few weeks, with what figures to be about three months left in his Dodger career. I know he's let a lot of people down, and with the way the Dodger fortunes have unfolded since 2010, his postseason mistakes haunt us more than ever.
His career might have gone into reverse, but it's not as if there wasn't excellence there. Call him one-dimensional if you want, but what a dimension.
All-time MLB strikeouts per nine innings (minimum 300 games)
12.17 Rob Dibble
12.00 Brad Lidge
11.92 Billy Wagner
11.67 Carlos Marmol
11.55 Jonathan Broxton
No, this doesn't mean everything, but like his dominance for much of his career before last summer, it means something.
When he comes back, is there any way, any way at all, that Dodger fans might not boo Broxton every time he touches the ball?
* * *
One more thing. In case you thought customer service was dead at Dodger Stadium, here's a great story from Evan Bladh at Opinion of Kingman's Performance.
* * *
| | | | | | | |
| --- | --- | --- | --- | --- | --- | --- |
| Today | 5/26 | 5/5 | 4/28 | 4/7 | Player | Comment |
| 1 | 1 | 1 | 1 | 2 | Matt Kemp | Has reached base at least twice in 11 of last 12 starts. |
| 2 | 2 | 4 | 4 | 1 | Clayton Kershaw | In 15 starts, has allowed 6 total runs in first three innings. |
| 3 | 3 | 3 | 3 | 4 | Hiroki Kuroda | Has lowest ERA of his career, but is tied for MLB lead in losses. |
| 4 | 5 | 9 | 6 | 5 | Jamey Carroll | Has .444 OBP on road this season. |
| 5 | 4 | 2 | 2 | 3 | Andre Ethier | One HR in past 136 plate appearances. |
| 6 | 10 | 17 | 18 | 14 | Ted Lilly | First hit of season raised him to 2 for 47 as Dodger. |
| 7 | 13 | 20 | 21 | 20 | Aaron Miles | Hitting .353 since May 8. |
| 8 | 22 | — | — | — | Rubby De La Rosa | So, he's gonna be in Dodger rotation all season then? Need to watch his innings. |
| 9 | — | — | — | — | Dee Gordon | Marquis Grissom had 124 PA as a Dodger before his first walk. |
| 10 | 19 | — | — | — | Javy Guerra | Only four of his 21 baserunners allowed have scored. |
| 11 | — | — | — | — | Josh Lindblom | Lowered ERA to 1.00, making case to stay on club. |
| 12 | 16 | 7 | 5 | 10 | Casey Blake | On pace for 70 games this season. |
| 13 | 9 | 13 | 9 | 6 | Rod Barajas | Has .264 OBP/.389 slugging. Mets released him last year with .263 OBP/.414 slugging. |
| 14 | 23 | 32 | 23 | 17 | James Loney | 41 doubles in 2010, on pace for 16 this year. |
| 15 | 15 | 10 | 15 | 22 | Blake Hawksworth | Has no strikeouts in seven innings (nine games) since May 3. |
| 16 | 6 | 6 | 7 | 18 | Chad Billingsley | His ERA+ is now below Loney's OPS+, for what that's worth. |
| 17 | 7 | 16 | 14 | — | Jerry Sands | 29 at-bats, three hits, one demotion since last Cogs. |
| 18 | 11 | 5 | 8 | — | Jon Garland | Well, he was a better signing than Jason Schmidt. |
| 19 | 8 | 11 | 11 | 13 | Mike MacDougal | Eleven of 26 inherited runners have scored. |
| 20 | 12 | 8 | 10 | 25 | Juan Uribe | Had 13 doubles, 11 HR after 70 games last year, nine 2B, three HR this year. |
| 21 | 14 | 12 | 12 | 8 | Matt Guerrier | Scoreless inning Wednesday was first in five games. |
| 22 | 17 | 18 | 20 | 24 | Kenley Jansen | Younger than Elbert, Guerra and Lindblom. Looking forward to his return. |
| 23 | 21 | — | — | — | Scott Elbert | After first rough patch of season, needs to show he can bounce back again. |
| 24 | 33 | 35 | 33 | — | Ramon Troncoso | Still rising: Unscored upon in seven of past eight appearances. |
| 25 | 18 | 30 | — | — | Jay Gibbons | It's as if the Dodgers suddenly discovered he was one-dimensional. |
| 26 | 24 | 15 | 19 | — | Vicente Padilla | Doesn't look like he'll have any HBPs this year. |
| 27 | 25 | 19 | 16 | 9 | Jonathan Broxton | Fifth in MLB history in K/9 (11.55), minimum 300 G. |
| 28 | 20 | 21 | 22 | 15 | A.J. Ellis | Zero HR, 26 walks for Isotopes this season (.457 OBP). |
| 29 | 28 | 14 | 17 | 12 | Tony Gwynn Jr. | Has .553 OPS, below what he had with Padres in 2010. |
| 30 | — | — | — | — | Trent Oeltjen | Was a batboy for Lasorda-managed U.S. in 2000 Olympic gold medal game in Sydney. |
| 31 | 36 | 23 | 24 | 7 | Rafael Furcal | Wednesday marked anniversary of five-hit game. |
| 32 | 31 | — | — | — | Juan Castro | Has started four games at first base in his career. |
| 33 | 30 | 29 | — | — | Russ Mitchell | For Isotopes: .910 OPS at home., .633 away. |
| 34 | 26 | 22 | 13 | 19 | Marcus Thames | He's barely hitting Dee Gordon's weight. |
| 35 | 27 | 27 | 29 | — | Dioner Navarro | 2 for his last 25 (and yes, that lowered his average). |
| 36 | 29 | 25 | 27 | 11 | Xavier Paul | On Wednesday, hit first HR since 5/15/09. |
| 37 | 32 | 26 | 26 | — | John Ely | In past three starts for Albuquerque: 10 1/3 IP, 30 H, 15.68 ERA. |
| 38 | 37 | 33 | 27 | 26 | Ivan De Jesus Jr. | Slugged .405 in minors last year, .315 this year. |
| 39 | 34 | 28 | 30 | 21 | Hector Gimenez | Has .741 OPS since returning to minors. |
| 40 | 35 | 31 | 31 | — | Jamie Hoffmann | On Wednesday, in his 1,000th Triple-A AB, got his 300th hit. |
| 41 | 38 | 24 | 25 | 16 | Hong-Chih Kuo | Had a 25-pitch shutout inning for Isotopes on Weds. |
| 42 | 39 | 34 | 32 | 23 | Lance Cormier | Now wearing the uniform of the Durham Bulls. |