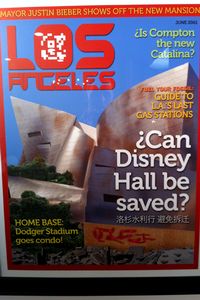 Jon WeismanCh-ch-ch-ch-ch-ch-changes.
At the Los Angeles Magazine 50th anniversary party Wednesday (deftly chronicled by Michael Schneider at Franklin Avenue), they had a series of covers imagining the magazine in 2061. A sample of one can be seen to the right. It appears that Dodger Stadium will have come full circle by then.
Elsewhere … Eno Sarris of Fangraphs takes a stab at what's wrong with Chad Billingsley.
For what it's worth, Billingsley, who has a .379 on-base percentage and .538 slugging percentage in 33 plate appearances, is now the No. 1 hitting pitcher in major-league baseball. Clayton Kershaw is also in the top 10.