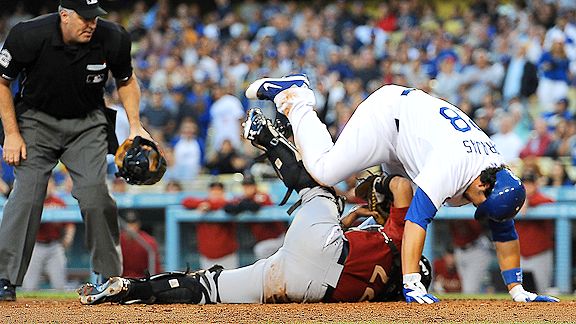 Jayne Kamin-Oncea/US PresswireRod Barajas had a rough night.
Rubby De La Rosa cruised through the first four innings on 45 pitches, then threw 40 pitches in the fifth inning and still didn't make it out (though he came within one pitch). The defense behind him didn't help De La Rosa, who was ultimately charged with five runs in a 7-0 Dodger loss to Houston that also included a sprained ankle for Rod Barajas. So maybe A.J. Ellis will soon join the party, if you can call it that.
According to the Fox broadcast, tonight marked the first home shutout in nine innings for the Dodgers with at least 10 hits in 40 years. The Dodgers have averaged 2.2 runs while allowing 6.0 during their 0-5 homestand.